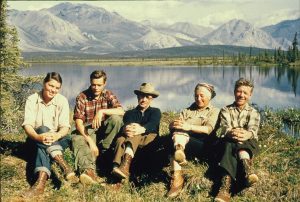 Bob Krear took this photograph at a camp near the Sheenjek River in 1956.
From left are: Brina Kessel, George Schaller, Don "Doc" MacLeod,
Mardy Murie and Olaus Murie


During this 5 day Arctic Refuge experience, we will aim to recreate the Sheenjek expedition on Arctic National Wildlife Refuge in 2022*. We will invite a small group of influencers/artists to Last Lake on the Sheenjek River. A permitted recreation guide will provide tent-camping accommodations. 

Application deadline: December 31st 2021, 11:59 PM
Trip Dates: July 25th- August 6th 2022
This is the wild heart of this Refuge.  Access will be via float plane for small groups.  Selected artists from any medium will be expected to produce a work which will share their experience on the Sheenjek with a wide audience.  This trip is part of the Arctic National Wildlife Refuge's 60th Anniversary.  All expenses from Fairbanks will be covered.
Applications and expedition information can be found here