Presentation recorded on Tuesday, November 16, 2021


Fran Mauer, Arctic Refuge Senior Biologist, retired
Fran Mauer started his career in Alaska 50 years ago at a pivotal point in wildlife conservation.  He worked on some of the most high-profile projects such as the Alaska National Interest Lands Conservation Act (ANILCA) and evaluating the coastal plain of the Arctic Refuge 1002 area for likely impacts of oil development.  After that exciting and controversial work, Fran got off the hot seat in 1988 to spend the next 14 years surveying Peregrine Falcons on the Porcupine River. This annual survey of nesting falcons was necessitated by their endangered status as a result of DDT exposure in the lower 48, as well as in Central and South America.  Fran will tell us the story of this bird's recovery and what he learned from this work about the interconnectedness of the Porcupine country with the rest of the Arctic Refuge, adjacent Canada and beyond. He will also describe some of the interesting geological history that created the Peregrine habitat and share human stories of the Porcupine River region including some unexpected discoveries.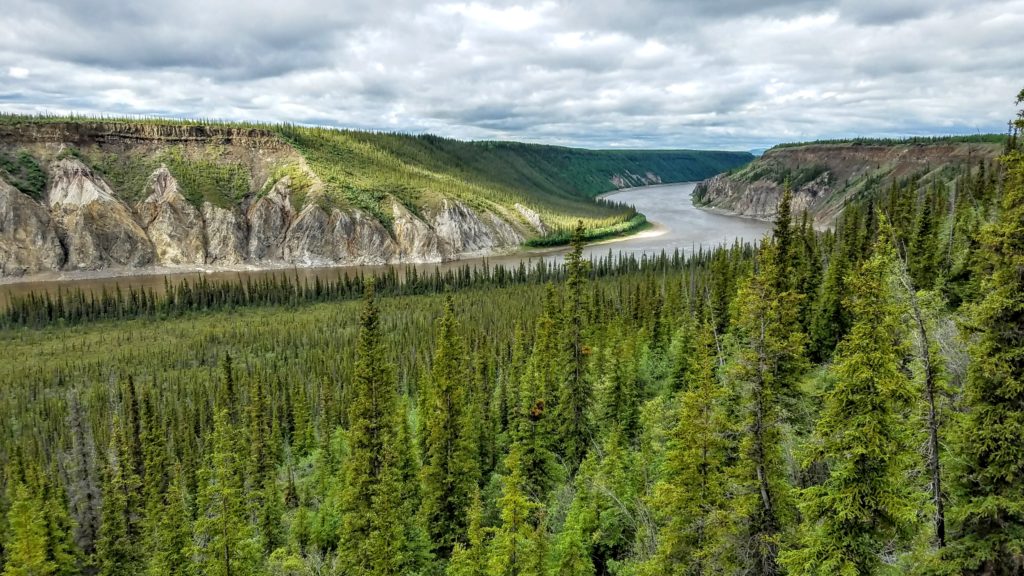 Porcupine River by Callie Gesmundo
Fran Mauer has a BS degree in Wildlife biology from South Dakota State University and a MS degree in Zoology from the University of Alaska – Fairbanks. He served two years in the US Army as a med lab technician during the VietNam war, before arriving in Alaska. 

He started with the Fish and Wildlife Service (FWS) as a seasonal bio-tech in 1974 to help identify salmon habitat that may be affected by the Chena River Flood Control Project but quickly landed his first permanent position with the Service working for the Western Alaska Ecological Service office in Anchorage.  One of his earliest assignments was to identify potential effects of the proposed Bradley Lake hydropower project.  In 1976, Fran joined the FWS Alaska planning team which provided resource information to guide the Congressional process underway to establish new National Wildlife Refuges, National Parks, Wild Rivers and Wilderness designations in Alaska. Fran covered the northwest and arctic areas of Alaska which got him involved with the prospect of expanding the Arctic National Wildlife Range, as well as the controversy over potential oil development on the coastal plain and wilderness protection.
Following passage of ANILCA in 1980, Fran joined the staff of the Arctic Refuge as a field biologist and became involved with the Congressionally mandated "1002" studies of the coastal plain.   His primary work involved an inter-agency baseline study of neonatal calf mortality on the calving grounds of the Porcupine caribou herd for the purpose of predicting what impact oil development might have on the caribou.  During 1988 to 2001 his work expanded to include Dall Sheep, moose, peregrine falcons and other birds of prey. Fran served as a senior biologist at the Arctic Refuge for 21 years. 
Fran has authored several scientific papers, governmental reports and essays for books and magazines. Fran's essay "Our Geography of Hope " about an imaginary walk across the Arctic Refuge from north to south was featured in Arctic National Wildlife Refuge: Seasons of Life and Land: A Photographic Portrait by Subhankar Banerjee.  This 2003 book may have been instrumental in holding off the leasing threat to the refuge at that time.  A just published book, Defending the Arctic Refuge by Finis Dunaway, devotes a chapter entitled "Science and Skulduggery" to Fran's and also co-worker Pam Miller's experiences in getting the correct data on expected oil development impacts on wildlife to Congress in spite of data suppression and the doctoring of Fran's caribou calving information at high levels.  The data doctoring led to a new role for Fran – whistleblower! 
Following retirement in 2002, Fran has served on the board of Wilderness Watch and represented its Alaska chapter.  He lives in Fairbanks and continues to advocate for maintaining the ecological integrity and the wilderness character of our Alaska National Wildlife Refuges and National Parks.

Suggested reading:

Ambrose, S., C. Florian, R.J. Ritchie, D. Payer, and R.M. O'Brien. 2016. Recovery of American peregrine falcons along the upper Yukon River, Alaska. Journal of Wildlife Management.
Ager, T. 1994. Prehistoric Alaska. Alaska Geographic Vol. 21, No. 4. Pages 38-53.
Thorson, R.M. and E.J. Dixon. 1983. Alluvial history of the Porcupine River, Alaska: role of glacial-lake overflow from northwest Canada. Geological Society of America. Vol.94: 576-589.
Carson, R. 1962. Silent Spring. Fawcett Publications Inc. Greenwich, Conn.
Murie, Margaret E. 1997. Two in the Far North (part three: The Old Crow River pages 209-255). Alaska Northwest Books, Portland, OR.
Richard Martin. 1993. Kaiiroondak (Behind the Willows). Publications Center, Center for Cross-Cultural Studies, Univ. of Alaska, Fairbanks.
People of the Lakes, Stories of Our Van Tat Gwich'n Elders. 2009. Univ. of Alberta Press, Edmonton, Alberta, Canada.
Mauer, F.J. 1998. Moose migration: northeastern Alaska to northwestern Yukon Territory, Canada. Alces Vol. 34(1): 75-81.