The Friends provided financial support a trip to the Pacific Marine Expo this past fall in Seattle, to help educate the public about invasive species.  Check out this report by Aaron Poe – Coordinator, Aleutian and Bering Sea Islands LCC, U.S. Fish and Wildlife Service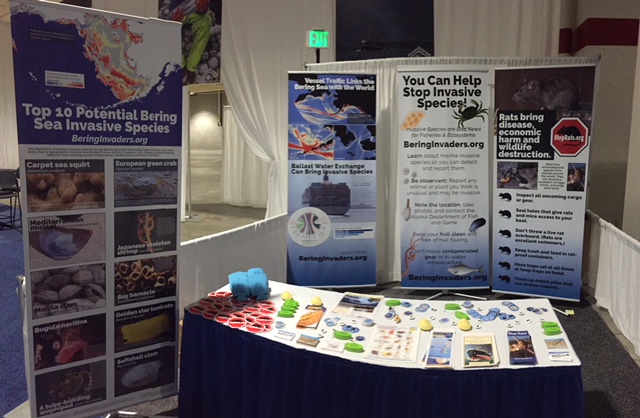 The impacts from introduced species like rats, foxes, cattle, and reindeer on the Alaska Maritime Wildlife Refuge are far-reaching.  These non-indigenous species damage the abundance and diversity of native species including seabirds through predation, competition, and habitat transformation. A decades-long effort led by the Refuge has restored ecosystems on many islands thanks to the work of a large team to meticulously remove species on an island-by-island basis.
This issue has been a key focus of the Aleutian and Bering Sea Islands Landscape Conservation Cooperative (ABSI), a public-private partnership composed of agencies, Alaska Native tribes, and nongovernmental organizations working on collaborative conservation solutions in the North Pacific. Since 2012, ABSI has worked closely with the Maritime Refuge and the University of Alaska, Anchorage to document the distribution of invasive species on islands in in the Aleutians and Bering Sea.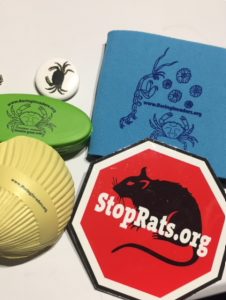 With funding from the North Pacific Research Board, researchers have had a chance to look ahead and prepare for lesser known potential threats from aquatic species inadvertently introduced by ships transiting through the Aleutians or from fishing fleets active in the region. These vessels can introduce species by exchanging ballast water or from species that grow on vessel hulls, known as "hull fouling". A recent ranking analysis of marine invasive species completed by the University of Alaska and a number of partners identified a 'Top 10' group of marine invaders that could potentially infest the Bering Sea and Aleutians.
We know after decades of restoration work in the Aleutians that prevention efforts are a worthwhile investment. This study included a targeted outreach component focused on the maritime industry to spread awareness and foster some discussion about how industry can work with scientists and resource managers.
The Pacific Marine Expo held in Seattle each November is the largest gathering of marine industry professionals on the west coast.  A team including Captain John Faris, Skipper of the U.S. Fish & Wildlife Service research vessel Tiglax, Aaron Poe (ABSI) and Melissa Good with (Alaska Sea Grant) staffed a booth for three days at this year's expo to connect with vessel operators and owners.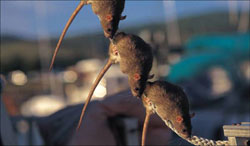 The educational materials sponsored by Friends of Alaska Refuges for their www.StopRats.org website provided a vital messaging hook that drew people into our booth. Mariners revile rats and the problems they can cause on ships. This helped us underscore the importance of finding ways to prevent introductions of invasive species from becoming established rather than fighting them once they are in place.
Throughout the expo we reached more than 250 people, gave out hundreds of StopRats.org magnets and made key connections with potential partners from a range of industries. We hope that being able to reach this key audience in Seattle with messages of prevention can ultimately help protect the islands and waters of Alaska thousands of miles away.