Kris Inman, Kenai National Wildlife Refuge Supervisory Wildlife Biologist

This meeting's presentations were recorded.  Watch below:
Christina Nelson, Selawik National Wildlife Refuge:
Intro to Selawik

Kris Inman, Kenai National Wildlife Refuge:
Stewarding the Kenai National Wildlife Refuge
(This recording has been edited to include the wolverine footage that wouldn't play during Kris' presentation.)


This is a time of unprecedented, profound, and rapid human-driven environmental change. In her presentation, Kris will share a few of the Kenai biology team's many projects that give a big-picture view of how wildlife populations and habitats might be changing or impacted by landscape issues like climate change and human population growth. Changing water temperatures in salmon streams, increased traffic on the Sterling Highway, more people living and recreating around the refuge and the spread of non-native species are a few of the human caused impacts to the refuge wildlife that Kenai biologists and agency partners are addressing.
Kris will share new technology like thermal imagery to document and understand the impact of water temperature changes on our world-famous salmon rivers that sustain bears, eagles, and people. She will also share results from the Refuge's efforts to minimize the impact of increased human presence on the Kenai including the effectiveness of Alaska's first wildlife road crossing project to provide safe movements for wildlife across the busy Sterling Highway which splits the Refuge. She will also highlight collaborative efforts to eradicate or control the spread of non-native invasive species like pike, elodea, white sweet clover, bird vetch, and reed canary grass that influences salmon habitat or encroach on native vegetation. In doing so, the biology team, working with refuge staff and many partners, will meet the station's vision of stewarding the lands and waters with an eye to the future, so the Refuge's diverse and abundant wildlife remain for the enjoyment and well-being of generations to come.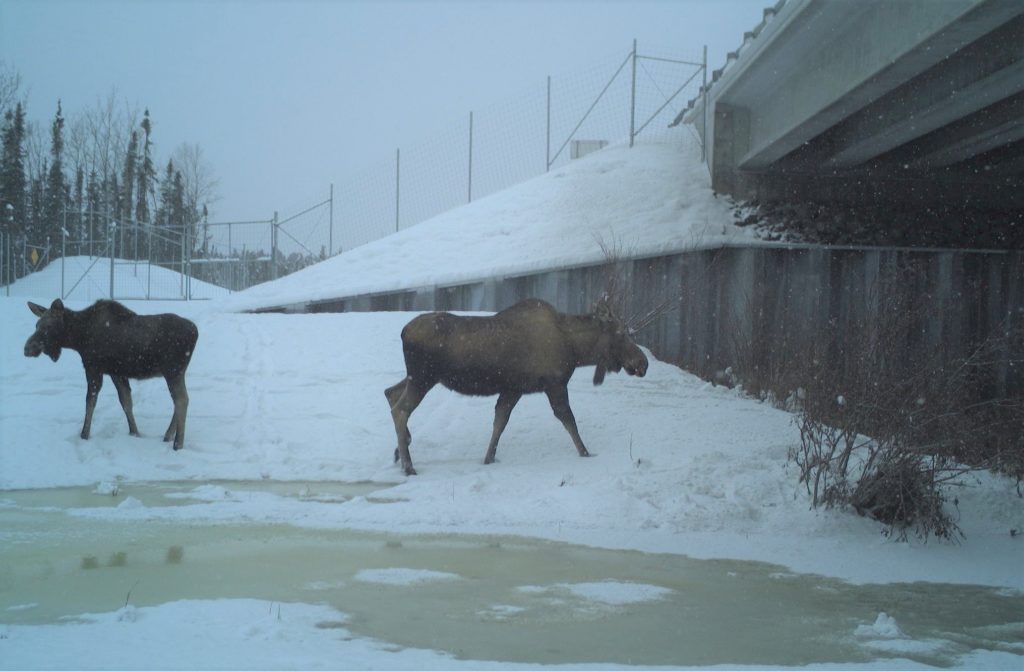 Moose using the new Sterling Highway wildlife underpasses. Fences funnel wildlife to the underpasses of this increasingly busy highway. Kris will discuss what the refuge has learned about the effectiveness of this project.
Kris Inman recently joined the Kenai National Wildlife Refuge as the Supervisory Wildlife Biologist. Before coming to Alaska, she worked on a wide range of wildlife research and inventory and monitoring projects, from the little-known Tomah mayfly and freshwater mussels to more charismatic species like wolves, bears, and wolverine. Kris received a Bachelor of Science degree from the University of Maine and a Master of Science degree from Virginia Polytechnic Institute and State University.
She spent the last twenty years living, working, and raising her family in the lands outside of Yellowstone National Park, where she and her husband co-led a collaborative wolverine research study for the Wildlife Conservation Society. This project eventually would contribute the largest body of science on wolverines in the lower 48 and would identify the biggest conservation needs: to restore, connect, and monitor wolverines across their current and historic range.
From there, Kris switched from researcher to implementor. She worked with broad stakeholder groups in SW Montana to apply wolverine science in a region critical to wildlife connectivity for not only wolverines but also migratory ungulates and recovered grizzly bear and wolf populations. As the Coordinator of Strategic Partnerships and Engagement for the Wildlife Conservation Society, she brought stakeholders together to develop tools to reduce negative human-wildlife interactions. She also explored and implemented natural climate adaptation strategies like beaver mimicry to improve private working ranchlands' economic and ecological sustainability as critical corridors to public lands.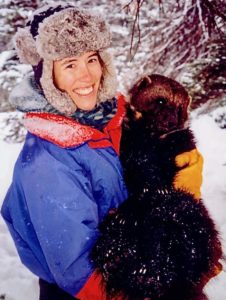 Kris holding a wolverine!
In 2018, the Disney Conservation Fund named Kris a Disney Conservation Hero for her contributions to science and engaging and empowering communities to take science to action. Kris was also selected as an American Association for the Advancement of Science IF/THEN® Ambassador, a network of 125 women STEM (Science, Technology, Engineering and Math) professionals from around the country who share their professional stories so young girls see that a career in STEM is possible.
Kris sees the Kenai Peninsula as similar to the Greater Yellowstone Area in its global significance as a large, intact, wild landscape, diverse in its wildlife while grappling with the challenges of rapidly growing nearby communities seeking solitude and world-renowned outdoor experiences.
Kris is glad to be a part of the Kenai Refuge and the larger refuge team in Alaska. She works with colleagues who recognize that conserving these great places will take a new future-oriented approach to conservation, and they are committed to developing solutions to meet the challenges of this century. At the same time, this work recognizes that people are part of nature and not separate from it. Seeing people in this light, we no longer just identify people as the problem but also the solution.