The Most Amazing Refuge You've Never Seen: The Alaska Maritime National Wildlife Refuge
Presented by Jeff Williams, Deputy Refuge Manager

This presentation was recorded.  Watch below:

In Homer and Soldotna – bring sides or desserts to the soup/chili after gathering or just come.  Refuge staff will share upcoming winter events and volunteer opportunities.
by Jeff Williams
Remote.  Difficult to access.  Harsh weather. Thousands of Islands. Millions of Birds.  Erupting volcanoes.  You've heard about it, but few people have actually had the privilege of visiting this spectacular refuge.  Spanning in extent from southeast Alaska, west to the end of the Aleutian Chain, and north above the Arctic Circle,  a distance equivalent to that from the East Coast to the West Coast of the lower 48, the 4 million acre refuge is comprised of several thousand islands.  It's also home to 80% of all the breeding seabirds in North America – we guess that is over 40 million birds, but our tally counters don't go that high. Oh, and don't forget the hundreds of thousands of seals, sea lions, and otters too.  Remote field camps on uninhabited islands and the largest ship in the Fish and Wildlife Service, the 120 foot R/V Tiglax, carry out the work of the refuge. The Refuge's Islands and Ocean Visitor Center is in Homer at refuge headquarters.  Jeff will provide an overview of the unique scenic beauty of the refuge and give you a look into the current refuge projects from the biological program to tribal engagement, ship operations and more.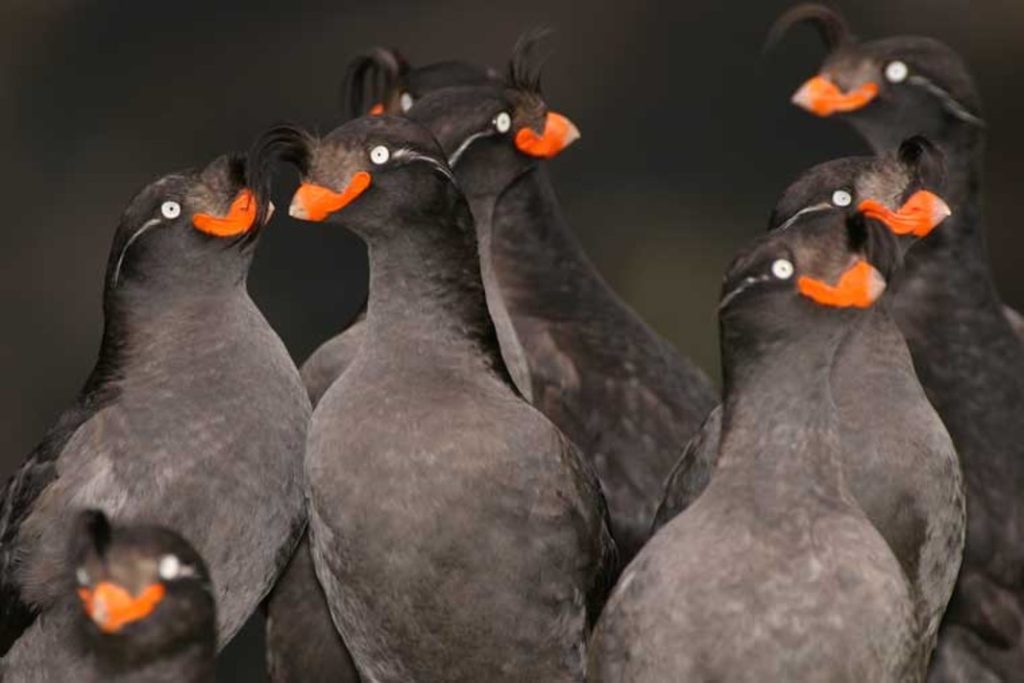 '
Most of North America's seabirds nest on this one refuge and crested auklets are some of the coolest.  PC USFWS
Jeff came to the Alaska Maritime Refuge in 1990 when the refuge was only 10 years old.  He has worked for this refuge probably longer than anyone else working his way up from Biological Technician, to Biologist, to Refuge Operations Specialist, to Assistant Manager and now Deputy Refuge Manager. Jeff says he remains passionate about the refuge after all these years because the work is always new, people and projects are interesting, and the refuge is a spectacular crown jewel in the refuge system. He even met his wife working for the refuge.  In his current position, Jeff oversees the day-to-day operations of the refuge and staff, serves as supervisor and scheduler for the
R/V Tiĝlax̂
, and wishes he could do more surveys in a skiff. Jeff was based in the Adak office for 12 years and moved to the Homer office in 2001. Jeff enjoys spending time with his family, reading widely, working in his shop on projects and woodworking.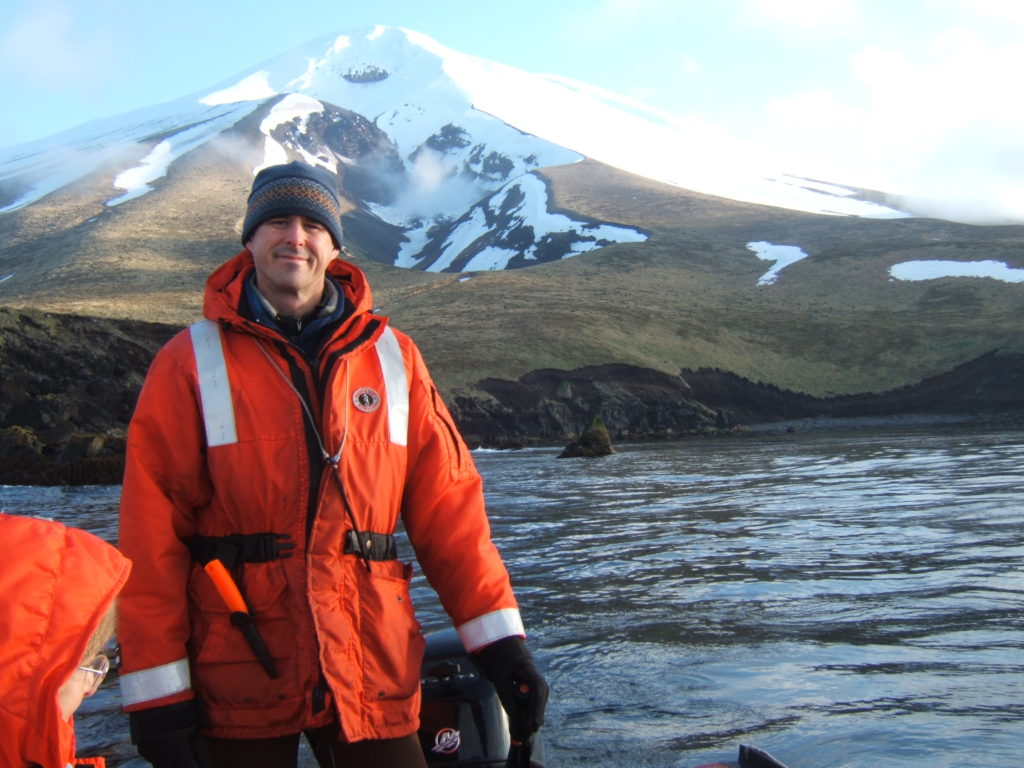 Jeff Williams on Segula Island in the Aleutian Islands. pc: USFWS