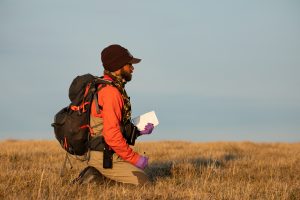 Bird Camp!  Birds and Biologists on the Canning River
Please join us online or by phone Tuesday, November 17, 2020, 5-6pm (AK), for our Friends monthly meeting with guest speaker, Timothy Knudson of the Arctic National Wildlife Refuge.  
Come along on a journey to Arctic National Wildlife Refuge to explore a remote field research camp on the Arctic Coastal Plain.  For more than 40 years, biologists have flown into this distant place to study tundra nesting birds.  Hear stories from the Canning River Delta 'Bird Camp'  first hand from one of Arctic Refuge's wildlife biologists. Learn about the different types of research carried out on the Canning River. See the preliminary results and catch the latest updates on the future of these projects. Get a glimpse of the ecosystem through the interactions of the lemmings, foxes, and the birds that connect this remote place to YOUR backyard.

What does it take to live and carry out research in this isolated place for nearly two months?   What changes have occurred to the tundra nesting bird population since research began at the Canning River Delta more than 40 years ago? How does the range expansion of the red fox into the Coastal Plain impact nesting birds and arctic foxes? Tim will address these questions and more.
Timothy Knudson is the Logistics Coordinator for projects on the Coastal Plain of the Arctic National Wildlife Refuge.  He ran the Canning River Delta Research Camp and was the tundra nesting bird field lead in 2019.  Tim has a B.S. in Natural Resources Wildlife and Water Resources Management from the University of Minnesota Crookston and an MS in Zoology from Southern Illinois University.  He did his thesis research on seabird ecology with the Kodiak National Wildlife Refuge.  Prior to coming to Alaska, Tim worked on the Audubon and Mississippi Sandhill Crane National Wildlife Refuges.
This meeting and presentation was recorded. Watch video below: