Kenai River Cleanup – Do good, have fun and see more of the Kenai Refuge.  September 7 – 9.  Sportsmen's Landing, Cooper Landing.  
Friends will join
Alaska Fly Fishers
in doing an end of season clean-up of Sportsmen Landing, and downstream beaches.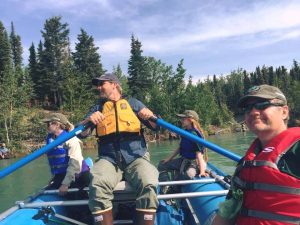 Event begins Friday evening with a potluck and music in the Sportsmen Landing/Russian River Ferry campground.  After a continental breakfast Saturday morning,  teams will either float the river cleaning beaches or clean around the landing, campgrounds and parking areas.  The Kenai Refuge will bring at least one raft to take Friends downriver to clean refuge beaches.  That evening the Alaska Fly Fishers will put on a free BBQ for all participants with prizes!  Sunday at 10, Friends will sponsor a hike on the Hidden Creek Trail off Skilak Lake Road. 
For more information and to sign up, contact Poppy Benson, Outreach  chair, poppyb.ak@gmail.com or call (907) 299-0092.  Check out our event co-sponsor's website.
This promises to be a very fun event that will also help build an alliance with the Fly Fishers, Kenai Watershed Forum and other partners.