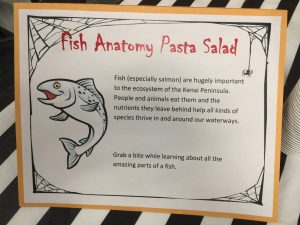 A group of 4 Friends met on Friday, October 25th to prepare salad bar items for the Spooky Season's "Fish Anatomy" Salad Bar. The group met to cut, dice, slice, boil and prep pasta/salad items to create edible items that would represent fish anatomy. Salad bar items such as kidney beans, black olives, red bell pepper, artichoke hearts, noodles, tapioca, and grapes were prepared and delivered to the Refuge in anticipation of Saturday's event.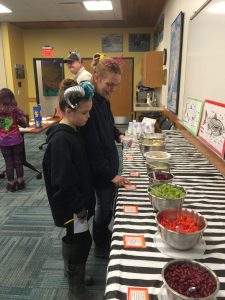 On Saturday, October 26, 4 Friends members supported the event by staffing Discovery Tables such as the Fish Anatomy Salad Bar, Bats, Bug Eyes, Thunder and Lightning, Bloodsuckers, and Skulls & Bones. Representing Friends as we shared environmental education to assist in dispelling fears of potentially "spooky" items, we provided information in an interesting and fun way to over 310 children and family members who attended the event.

Overall Friends donated 13 hours of planning, preparation and staffing to support this successful event at the Kenai National Wildlife Refuge. A hearty well done to Ranger Jack who took the lead on this event and coordinated with Friends members.