Call

for

Submissions:




The

9

th

Annual

Art

in

the

Arctic

Art

Show

Date: March 28 – April 25, 2024

Submission Deadline:
extended to December 1, 2023
THE 2024 SHOW: The Art in the Arctic Art Show is held each year in Fairbanks, Alaska. It bridges the worlds of art, nature, and conservation, with a spotlight on three of the U.S. Fish and Wildlife Service's northern Refuges: Arctic, Kanuti, and Yukon Flats National Wildlife Refuges. The scale, expanse, and wildness of Alaska's Refuges distinguish them from most other Refuges in the National Wildlife Refuge System. These Refuges protect habitats for all species, as well as massive landscapes for subsistence uses and outdoor adventures. Through a tapestry of artistic expressions, Art in the Arctic unveils the narratives, beauty, and challenges these Refuges encapsulate, urging audiences to immerse themselves in their stories. 
This year, Art in the Arctic will highlight the artist, their artwork, and the artist's connection with the stories of fish found in at least one of the three Refuges. This event is co-hosted by the U.S. Fish and Wildlife Service and the Friends of Alaska National Wildlife Refuges.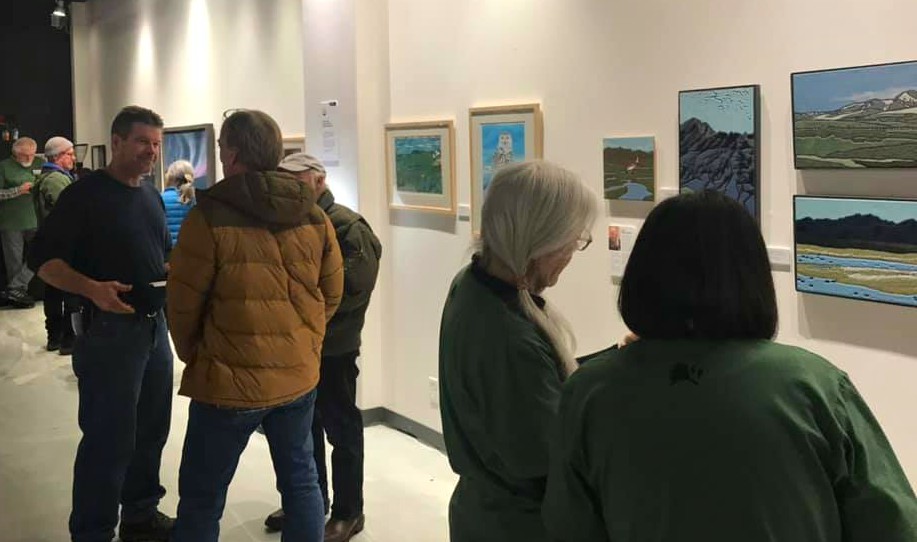 photo from the 2019 exhibit at Venue Gallery

THEME: Resilience in the Refuges: Fish and Rivers of the Far North 
This year's theme celebrates the fish of three northern Refuges and the waterways that support them. Arctic fish species like char, cisco, grayling, salmon, sheefish and dolly varden are not only beautiful, but also fundamental to the health of intact ecosystems and the cultural fabric of subsistence lifeways. Migration is a key part of many Arctic fish species' life history, and thus habitat connectivity is essential.  
The waterways of Arctic, Kanuti and Yukon Flats Refuges provide interconnected and uninterrupted arteries where life can continue unimpeded. Since time immemorial, Indigenous Alaskans and wildlife like bears have depended on the seasonal movement of fish. Though uniquely adapted to extreme Arctic environments, Alaska's northern fish species are facing unprecedented challenges in the streams and rivers they inhabit for sustenance, spawning and migration. Impacts from climate change and anthropogenic activities can potentially affect sensitive spawning and overwintering sites. Can these fish of the far north adapt, or are human influences testing the limits of their resiliency? 
In this year's show, we invite artists to share their connection to fish, Refuge rivers and tributaries, and the life history of Arctic fish species. We also challenge artists to consider how fish moved through Arctic waterways in the past and provoke viewers to explore their hopes and fears for the future of these amazing creatures.
ABOUT THE REFUGES: 
Arctic National Wildlife Refuge: South of the Brooks Range, King salmon migrate almost 2000 miles up the Yukon River to major tributaries in the Arctic Refuge, one of the world's most impressive fish migrations. Research indicates rising river temperatures in the Yukon are threatening this migration, and other salmon species are expanding their range deeper into the Arctic as climate change warms Arctic waters. On the Coastal Plain, overwintering sites for Arctic cisco, Arctic grayling, and Dolly Varden are limited to just a handful of deep lakes or springs. Habitat connectivity to reach these springs is essential. Barriers to fish movement could jeopardize an entire fish population, impairing ecosystems and putting critical subsistence resources at risk for Iñupiat and Gwich'in people. 
Kanuti National Wildlife Refuge: The Athabascan name for Kanuti is "Kk'toonootne" which translates to "well-traveled river by both man and animals." The Refuge, home to Koyukuk Athabascans and Nunamiut Eskimos who continue to depend on its resources, supports major summer feeding and overwintering habitats for multiple species of whitefish, including spawning reaches for humpback whitefish and least cisco. Henshaw Creek is also an important spawning area for summer-run chum salmon. Upstream mineral and road developments threaten Refuge water quality and habitats, and consequently the fish residing in them. 
Yukon Flats National Wildlife Refuge: The Refuge encompasses the section of the Yukon River that serves as a key spawning ground for Alaska's only endemic fish, the Bering Cisco, and one of just six Yukon River spawning sites for sheefish. For thousands of years, this area has been—and continues as—a homeland for Gwich'in and Koyukon Athabascan people. Today, fish camps and smokehouses are going empty as Pacific salmon populations crash in the region. 
THE DETAILS: 
EXHIBIT: The Show will be held at VENUE, where contemporary architecture and an inviting ambiance make the perfect backdrop for an event that strives to transcend traditional boundaries. The casual, fun, and beautiful gallery setting acts as a disarming space, enabling diverse communities to converge, converse and connect. 
Each artist will be expected to draft a short narrative (2-4 sentences) to associate their art with the theme of the show. Selected artwork and artist biographies will be on display at VENUE from March 28 – April 25, 2024. Artwork will be available for sale to the public. Proceeds of sales will be split with VENUE (60% to artist, 40% to VENUE). 
SPACE: Each artist is invited to provide up to four pieces of artwork, or ideas for artwork. Original art will be prioritized in the selection process (prints accepted as space allows). Art that does not reflect the theme will not be exhibited. 
ELIGIBILITY: The Art in the Arctic Art Show is committed to showcasing artwork that exemplifies the story of fish and their waterways on Arctic, Kanuti and Yukon Flats National Wildlife Refuges in northern Alaska. All work exhibited at the show must feature compositions or objects that have a nexus to:
1) fish species on Arctic, Kanuti or Yukon Flats National Wildlife Refuges; 2) subsistence or harvesting activities involving fish; 
2) subsistence or harvesting activities involving fish;
3) the role of Refuge waterways; 
4) Challenges to fish and/or their habitat caused by human actions or activities; 
5) any activity (i.e.: wildlife viewing, scientific research, river recreation) involving fish and their waterways. 

RESOURCES:
TO APPLY: Applicants must submit up to 10 high resolution images of examples of their artwork (300 dpi and 1,400 x 2,000 pixels) and an artist statement (1,000-character maximum). All mediums welcome, including photography, poetry, sculpture, watercolor, fiber arts, performance arts etc. 
Applicants must provide either a detailed description of each submission, or an idea for submission, including the connection it has to Arctic fish and their ecosystem. There must also be a connection to at least one of the three National Wildlife Refuges: Arctic, Kanuti or Yukon Flats. 
In addition to the above materials, please submit your 1) name; 2) mailing address; 3) phone number; 4) email address; 5) website (if you have one); and 6) a unique file name for each of your submitted images. 
SUBMISSIONS: Please send or postmark your submissions by December 1, 2023. Submit electronic applications to: arctic_refuge@fws.gov 
Mail hard-copy applications to: 
Hanna McBrearty 
Arctic National Wildlife Refuge
101 12th Avenue, Room 236 
Fairbanks, Alaska 99701 
For questions about the application process or the Show, contact us at arctic_refuge@fws.gov or (612) 716-0409.  
ACCEPTANCE:
All applicants will be notified whether their artwork or art concept will be accepted as part of the show by
December 20, 2023
.