Vets, Kids and Fly Fishing;
Finding Healing and Leadership in Wild Places    
Tuesday, February 23, 2021, 5-6pm (AKDT)
Friends monthly meeting with guest speaker, Chad Brown of Soul River Inc.

Navy Veteran Chad Brown was homeless and medicated for PTSD when he discovered fly fishing and the healing power of rivers.  Brown said that the first tug on his line from his first fish was like a bolt of nature's electricity bringing him back to life.  He founded Soul River, Inc. to share what rivers and fishing had done for him.  He pairs vets and inner city kids  on "deployments" to wild rivers including several trips to the Arctic National Wildlife Refuge.  Amid the grandeur of the Refuge, the vets found purpose as mentors and the youth flourished in this new world of nature, adventure and fishing.  
Brown will share with us his story, the success of Soul River and how his mission has grown into protecting the Arctic Refuge and being of service to Native  communities.  He will tell us about his new non-profit, Love is King, which is dedicated to creating equitable and safe access to the outdoors for people of color.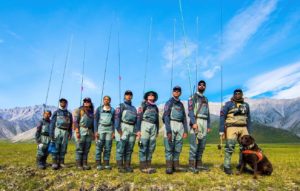 .
Chad Brown grew up in Texas hunting and spending time on his grandparents farm.  He joined the Navy to get the GI Bill and served in Desert Storm, Desert Shield and Restore Hope Somalia.   After the military, he earned a Master of Science in Communications Design and had a successful career as an art director and  photographer before his PTSD caught up with him and brought him down.  After fishing and rivers and the VA healed him he started Soul River as well as serving as creative director of Chado Communication Design and Soul River Studios.  Besides being an avid fly fisherman he is a bow hunter, outdoor adventurer and conservationist. 

Chad Brown pc: Corey Arnold