By Jaime Welfelt, Biological Science Technician at Alaska Peninsula and Becharof National Wildlife Refuges
Aerial insectivores, birds that capture their invertebrate prey from the air, have declined more than any other group of North American birds. To monitor aerial insectivore populations in Alaska, a dedicated group of federal, state, university, and nonprofit biologists formed the Alaska Swallow Monitoring Network (ASMN) in 2015. This coordinated effort aligns existing long-term swallow monitoring sites in Fairbanks and McCarthy, while providing a support system to add more sites across the state.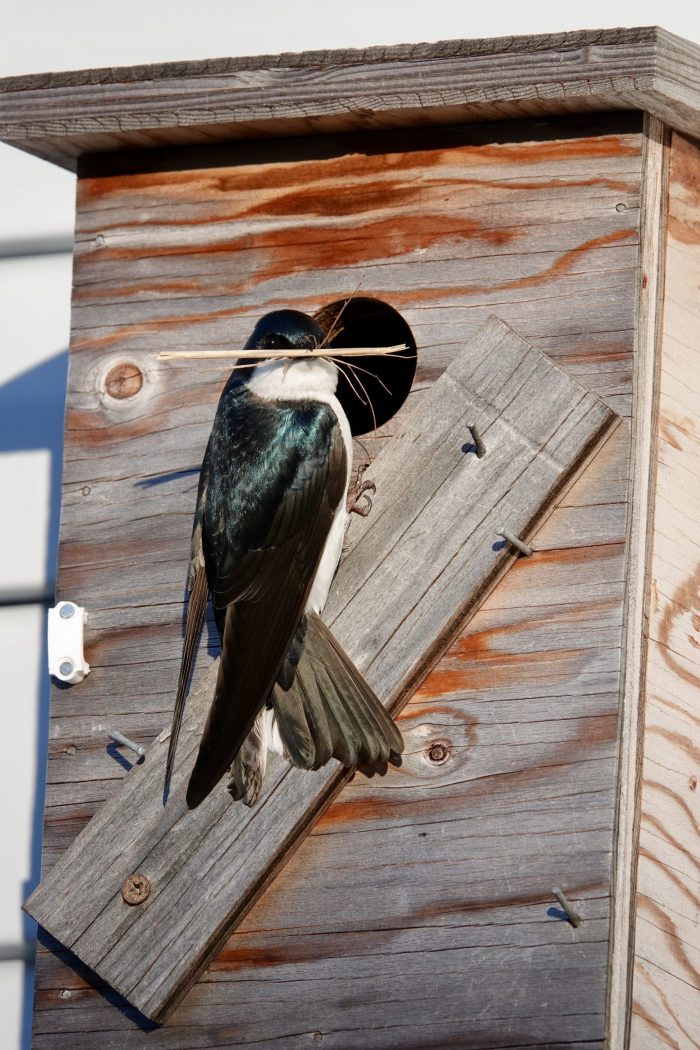 A banded female Tree Swallow collects grass to build a nest in the specially designed box. Once the grass nest cup is complete, the male will bring her white swan or duck feathers to insulate the cup. The side of the nest box is hinged so observers can quickly open the box and record its contents. Using fishing line, we can close the flap on the front of the box, allowing us to capture and band adult birds (photo by Carl Ramm).


The ASMN focused their efforts on Tree Swallows, a wide-ranging aerial insectivore in decline across the northern U.S. and Canada. Tree Swallows make an ideal avian study species because they readily use nest boxes and easily acclimate to human presence. Studies show that Tree Swallow breeding phenology and nesting success are sensitive to extreme weather events and changes in weather patterns over time.   
Alaska Peninsula and Becharof National Wildlife Refuges (AKPB) began monitoring a few Tree Swallow nest boxes in King Salmon in 2007. In 2015, with support from ASMN and a grant from the Environmental Protection Agency, AKPB increased the number of nest boxes and expanded the project to include the neighboring community of Naknek. Yukon Delta Refuge in Bethel joined the ASMN in 2017, as did the Alaska Songbird Institute (Fairbanks), University of Colorado (McCarthy), University of Alaska (Anchorage) and Juneau Audubon Society.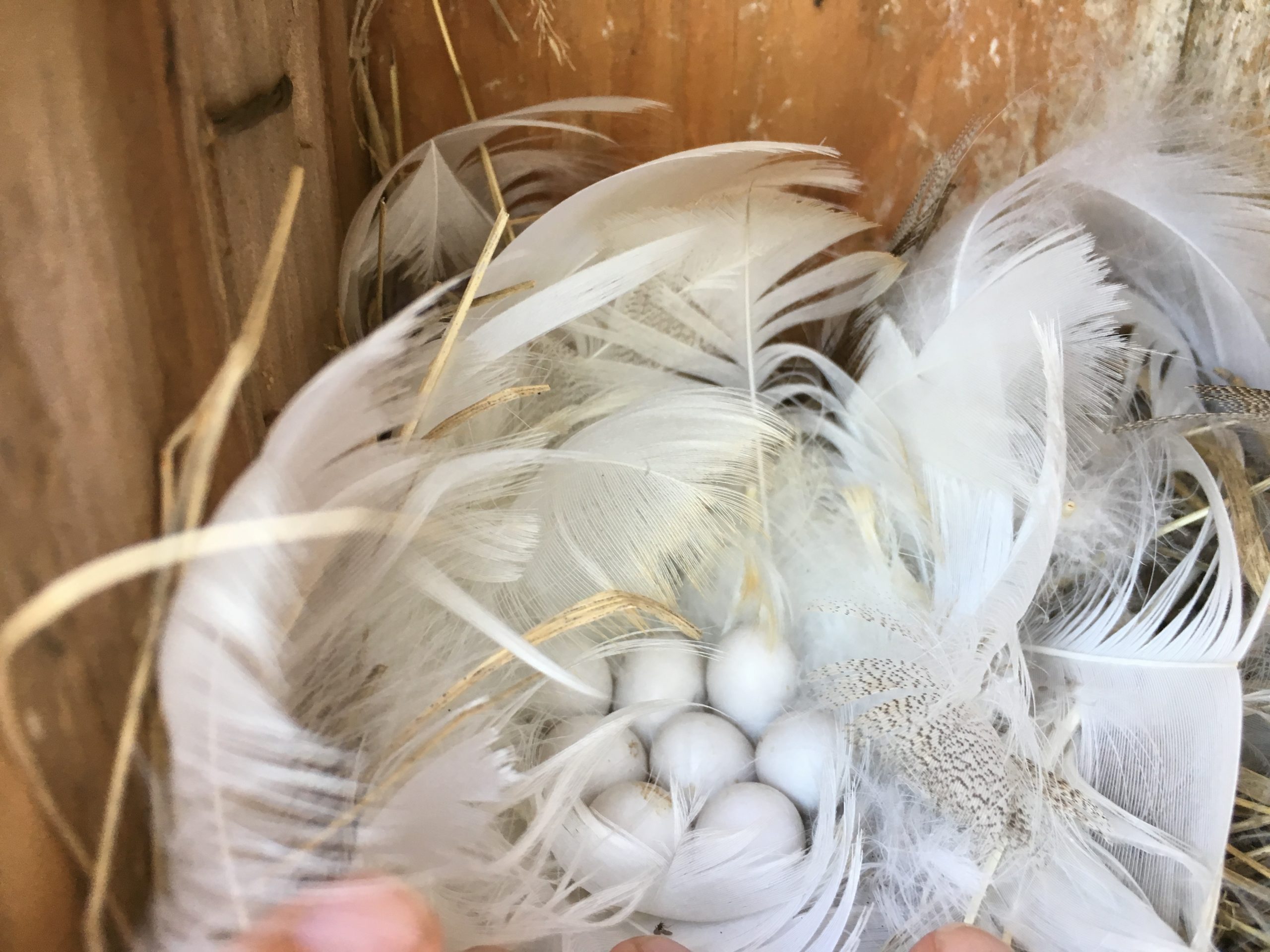 Tree Swallows lay one egg per day, with a typical clutch of 3-7 eggs. Occasionally, in Alaska, we see nests with eight eggs! (photo by Jaime Welfelt).


The Alaska Peninsula encompasses the southwestern-most boundary of the Tree Swallow's range in Alaska, making it an ideal place to study population changes. On the peninsula, we installed nest boxes on buildings maintained by AKPB, Katmai National Park, Alaska Department of Fish and Game, local businesses, schools, and private residents. Refuge biologists, technicians, student interns, and volunteers check nest boxes regularly and record the number of eggs, when and how many chicks hatch, and when the chicks leave the nest box at the end of the season. The specially designed boxes have a trap door that allows us to capture and band both adults and chicks. The uniquely numbered leg bands allow us to identify individuals and estimate survival rates of recaptured birds. Data from this project will help us better understand the factors affecting Tree Swallow breeding phenology, productivity, and survival in Alaska.
Because AKPB can only be accessed by boat or plane, the Tree Swallow Project provides a unique opportunity to involve the communities of King Salmon and Naknek in our research.  The Tree Swallow Project has reached students across the Alaska Peninsula, including the remote villages of Chignik Lake and Perryville. During summer, Bristol Bay summer camps, homeschool students, and community members in King Salmon and Naknek join Refuge biologists in Tree Swallow banding demonstrations, providing an exciting opportunity to see science in action and live birds in the hand. Statewide, ASMN outreach events and social media posts have reached over 53,000 people.
This project has also been a great avenue for young scientists and summer interns to gain experience in biological field work, managing data, and leading educational events. Since 2016, interns have logged close to 5,000 hours of volunteer time monitoring birds. Business owners and private residents who have volunteered to host nest boxes have expressed much joy in watching the Tree Swallows attend their boxes each summer.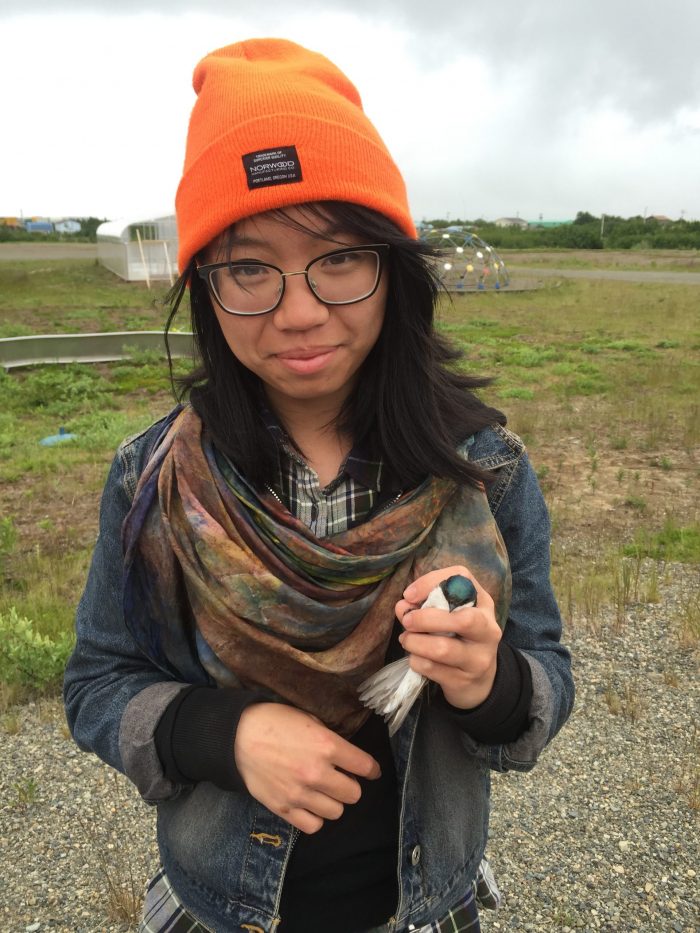 Refuge intern Emily Leung holds an adult Tree Swallow captured at the Bristol Bay School in Naknek (USFWS photo).

A joint analysis of the Tree Swallow data collected in King Salmon, Bethel, Fairbanks, Anchorage, and McCarthy between 2014 and 2019 is currently underway in cooperation with University of Alaska Anchorage and other partners statewide. The results of this analysis will provide a comprehensive look at how aerial insectivores at northern latitudes are responding to changes in their breeding environment. The citizen science approach has allowed us not only to collect excellent data, but has engaged youth and the community in science and natural resource management at AKPB.