by Lisa Kennedey, 2018 Festival Presenter
It was my first time in Homer and a first-time experience for the shorebird migration in the Kenai area. I have to say, Homer is a great place to see shorebirds, moose, visit fun eateries and cafes as well as enjoy the phenomenal Islands & Ocean Visitors Center. The Kachemak Bay Shorebird Festival draws in a substantial number of people, with a town that can house you comfortably and provide lots of food and drink options. The event was well organized and I felt that the Keynote Speaker, Noah Stryker, gave a fabulous, comical and enticing talk encapsulating some unique and inspiring moments in his Global Big Year. For those really keen on birding, be sure to check their species board for updates on new or rare species sightings in the area. I had several lifer species including Eurasian Teal, which definitely bumped up the cool factor for our trip. Without the species list and where the bird was seen (at the Visitors Center) we probably would have missed this fun sighting. So, a big thank you to the Kachemak Bay Shorebird Festival Committee in helping us collectively celebrate the wonder of shorebird migration in Alaska. Until next spring, Happy Birding!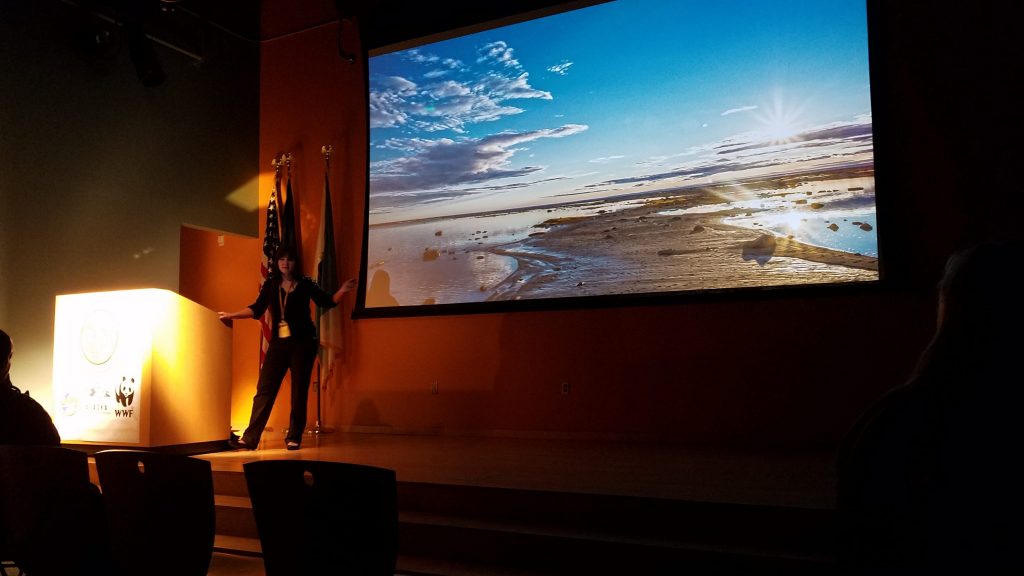 Main photo: photo credit Nicholas Docken, Lisa Birding at Beluga lake; looking for the Eurasian Teal!
Bottom photo: photo credit Nicolas Docken Lisa giving her talk; Bears, Weather and Birds. Life in a remote Arctic field camp in Nunavut Canada.