By Lynn Fuller, September 3-7, 2019
I had the wonderful opportunity to be part of Camp Goonzhii earlier this fall. The annual Science and Culture camp was held at the school in Arctic Village in early September. For three days, the students and teachers at the school, the camp instructors, and members of the community shared activities and stories about the environment, traditional culture and the refuge.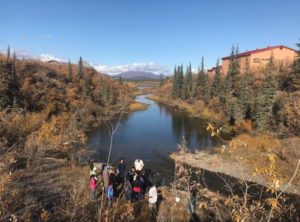 The six instructors took turns filling in all the blocks in the school schedule, alternately doing activities with the different age groups. I led the session on Aquatic Macroinvertebrates, starting with a field trip to the stream by the school to see what we could get into our bug nets.


After our collected samples settled overnight, we observed and sorted what we found and talked about what the aquatic organisms needed to live, and what needed them, and their role in the river environment overall. The fast moving scuds and erratic water boatmen were by far the favorites!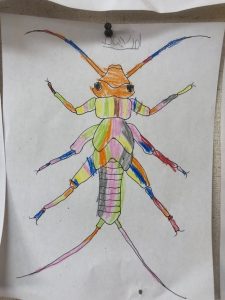 Related activities included traditional fishing and how to build a fish trap and an art project where the students did invertebrate art based on what we saw in the stream. There were also class activities and games such as learning about lynx, soundscapes and plastic pollution.
A big thank you to Allyssa Morris and Katherine Monroe at USFWS for all the organizing, to the school for hosting us, and to Friends of AK Wildlife Refuges for sending folks out on these volunteer opportunities. The Friends group also supported a community dinner at the school.
There were a number of hugs from small people when school ended on Friday!