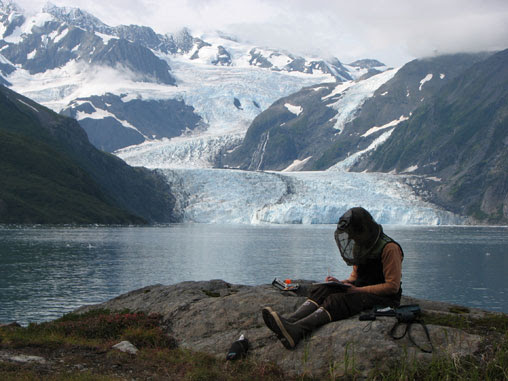 The 
Voices of the Wilderness
 artist residency is a unique opportunity.  It is modeled after traditional residencies in the national parks…with a twist.  Instead of staying at a remote wilderness cabin, our participating artists are paired with a wilderness specialist and actively engaged in stewardship projects, such as research, monitoring, and education. The idea is to give artists a sense of the stewardship behind America's public lands, fostering an artistic exploration of these natural and cultural treasures. The hoped-for result is artwork that communicates something of the meaning of these lands.  (photo: Chugach & Tongass National Forests, Western Arctic National Parklands)


Residencies open to: Art professionals in all media – visual (two and three dimensional, photographers, sculptors,painters), audio (musicians, singers,  composers), film (video/filmmakers), and writers (poets, fiction, essays, storytellers).
Residency period: Residency dates vary, but typically they are hosted June through September, lasting 7-9 days.
Coordinator contact: Barbara Lydon at (907) 754-2318, email: blydon@fs.fed.us
Artist-In-Residence Program Details:
Sponsored by the US Forest Service, National Park Service & US Fish & Wildlife Service


In the summer of 2017, artists will be invited to participate in our residencies, each opportunity completely different. The purpose is to share with the community artwork that conveys the inspirational and other values of wilderness.
Each artist will be provided the same safety training as other volunteers (may include aviation and boat safety, kayak safety, use of radios and satellite phones, review of Job Hazard Analyses, etc.).  The hosting federal agency will provide transportation to and from the field, camping and field gear, and in many cases, food as well.
Travel to and from Alaska is the artist's responsibility.  Participants should plan to arrive in Alaska at least one full day prior to a residency to ensure enough time for safety training. Return travel should be planned for a couple days after a residency, as weather sometimes delays the return from the field.  Artists are also responsible for their personal gear, including art supplies


As an artist-in-residence, you will experience the wilderness like few others. Traveling alongside a ranger, you might kayak the calm fiords and camp on glacier-carved shores. There will be plenty of time to sit back in your camp chair and absorb the crackling ice bergs and roaring waterfalls. From the water, you might see a bear foraging among intertidal mussels, or seals hauled-out on the ice. On remote beaches, your steps will mingle with the tracks of wolves, bears, birds, maybe even a mink. The wilderness soundscape will embrace you with the screeches of eagles or the songs of whales. Along the way, you'll get a peek at what it's like to care for the land by sharing time with a ranger



As a volunteer, each artist will assist with some basic ranger duties, which may include boarding a tour boat to provide education, participating in research projects, such as seal counts or climate change studies, walking a beach to remove litter, or other generally light duties. However, an emphasis for the artist will be experiencing the wilderness and exploring how to communicate its inspirational qualities through their artwork.