By: Dan Musgrove; Soldotna, Alaska

In March of 2022 I joined Ralph Kiehl along with Ranger Tim Lorenzini of the Tetlin National Wildlife Refuge for the purpose of maintaining remote cabins on the refuge.  Over a one week period the work involved cutting firewood, repairing a cabin porch, inventorying cabin supplies, hauling propane and a generator and taking snow depths for biologists.  The fun involved meeting new people, seeing a refuge I had not been to, ice fishing, snow machining and sharing meals.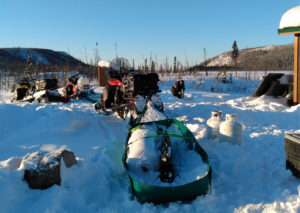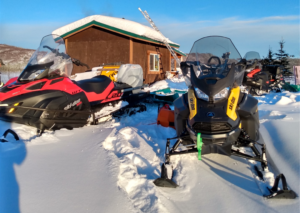 Stuver Lake Cabin jhkhhhhhh Jatahmund Cabin   
Once in Tok, Ralph and I attended a snow machine safety class, gathered gear for the trip and enjoyed eating at Fast Eddies, the one restaurant in town.  Our destination for this project was approximately 80 miles towards the Canadian border, with our first stop for staging at the Seaton Roadhouse. Once the snow machines were unloaded and packed we proceeded along for another 25 miles, stopping along the way to take snow depth measurements that would help the biologists. 
The first cabin we reached was the Stuver Lake Cabin with a stunning lake view.  After two days at this cabin shoveling snow, cutting wood and making repairs we headed another 15 miles to Jatahmund Lake Cabin where we spent another 2 days. We were greeted with the sight of 15 caribou on the lake.  At this cabin in addition to cutting wood, shoveling snow off roof structures, our repairs included building a new toilet seat for the outhouse!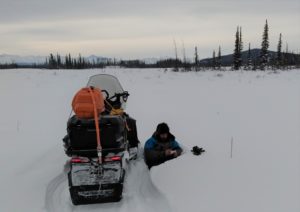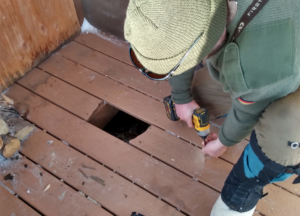 Tim measuring snow depth.  hhkkkkkkkkkkkhjkk Repairing Stuver Lake cabin porch floor.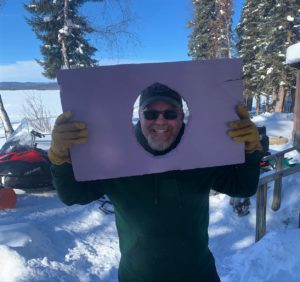 Other duties as assigned. Dan builds an outhouse seat.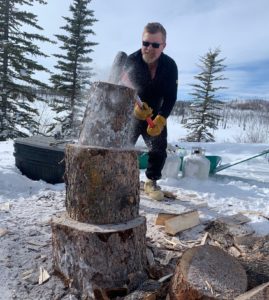 Dan was a wood-splitting machine.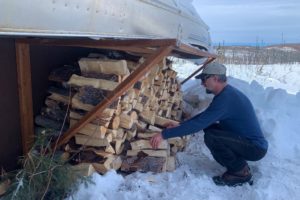 Ralph stacking wood.
Jatahmund Cabin provided amazing mountain views, sunsets, and daily sightings of caribou near the cabin.  The ice fishing here was incredibly fun!  Maybe a few fish tales to tell!
Ranger Tim kept Ralph and me well-fed throughout the trip, cooking was done inside the cabins on propane stoves.  Gathering clean snow for drinking and cooking was a daily occurrence.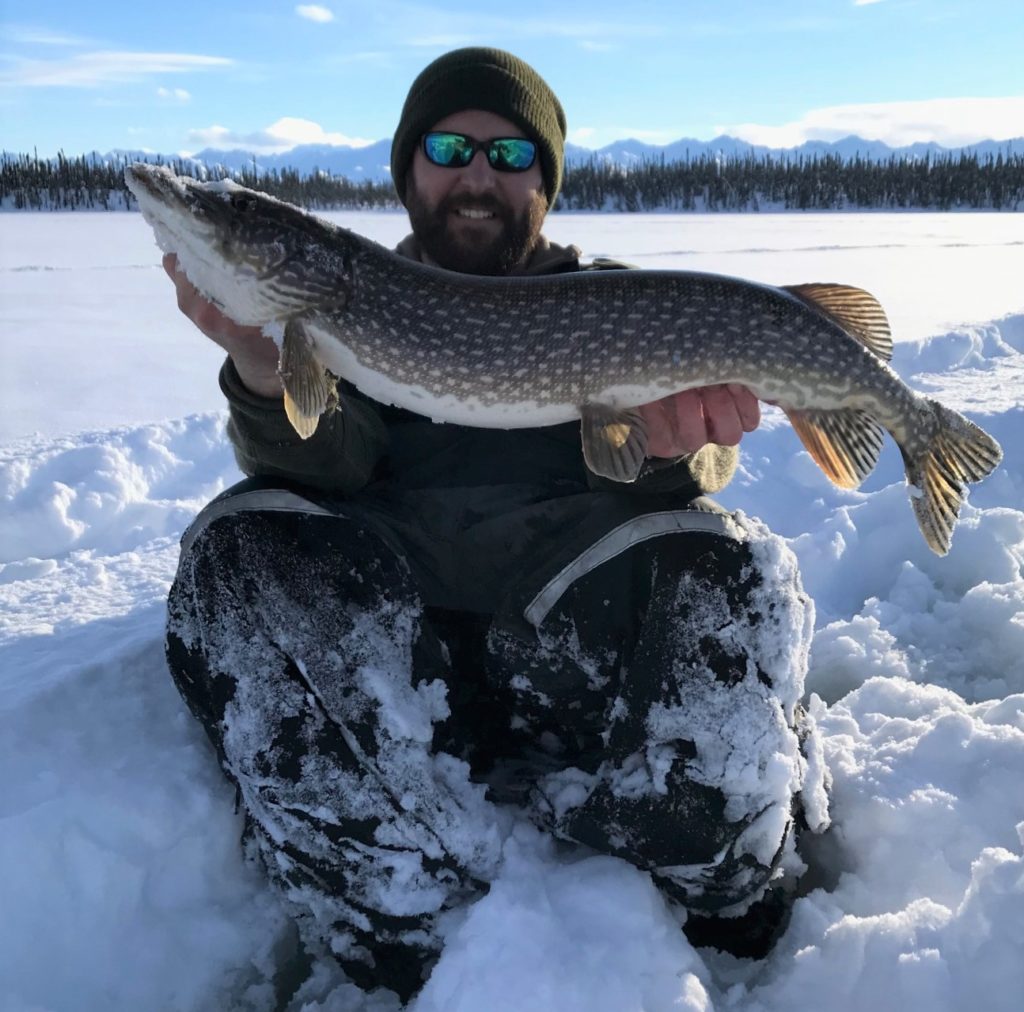 Tim and Jahtumend Lake pike.
My favorite part of this volunteer opportunity was seeing new country and sharing in the work of maintaining a refuge.  Volunteering with the Refuge was gratifying and satisfying.  I highly recommend volunteering if an opportunity comes your way.