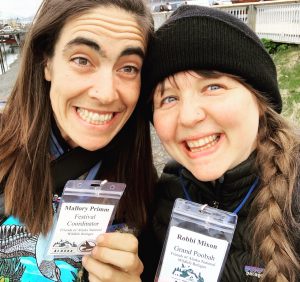 Friends of Alaska National Wildlife Refuges and Alaska Maritime National Wildlife Refuge co-sponsored the 27th Annual Kachemak Bay Shorebird Festival in Homer, Alaska, May 9-12, 2019. The combination of new Coordinator Mallory Primm and outgoing Coordinator Robbi Mixon was magical! Registration was up by over 100 participants from the previous year and the Keynote speaker, Jennifer Ackerman, sold out for both talks and her workshop. Mark Omascik shared his new book on the Battle of Attu and feature presenters Raymond VanBuskirkand the Tropical Birding Crew led field trips and talks. The stunning artwork by Valisa Higman sold for a record bid, along with over 30 donated 6×6 Alaskan bird art pieces and trips. Much of our merchandise sold out quickly – stop by Islands and Ocean in Homer to see what's left. Around 100 volunteers donated their time and talents to make this event successful along with the huge contributions of many sponsors and supporters.

Congrats to Mallory on her first year as coordinator, and to Robbi on her last!

We hope you'll save the date for next year's event: May 7-10, 2020!