The 9th annual Dragonfly Day was a huge success. The all-outdoor event was held on a warm and sunny day and welcomed 481 attendees to Tanana Lakes Recreation Area. Attendees were able to meet co-author of Dragonflies of Alaska, John Hudson. John led nature walks and shared tips on how to catch dragonflies using an aerial net. Some of the common species caught included the Boreal Whiteface, Lake Darner, and Alaska's state insect, the Four-spotted Skimmer.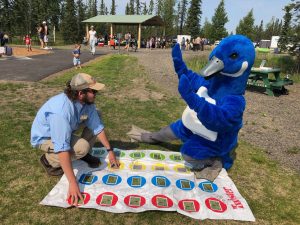 After catching and identifying dragonflies, participants had an array of activities and games to choose from including Dragonfly Twister, dragonfly q-tip art, face painting, or taking a photo with Puddles the Blue Goose at the photo booth.
The Fairbanks Market Grocery and Deli donated an array of fruits and vegetables for youth to make their own dragonfly-inspired snack! Friends Joseph Morris and Moira O'Malley were on site answering questions regarding Friends memberships and projects. Joseph and Moira also sold Dragonflies of Alaska field guides. All proceeds from the sale of the field guide was donated to the Friends group from John Hudson.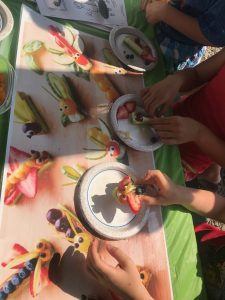 Blue Flame food truck was on site with food for purchase. This event was made possible by the Friends of Alaska National Wildlife Refuges, Fairbanks North Star Parks and Recreation, National Park Service, University of Alaska Fairbanks, and Fairbanks Co-op Market Grocery and Deli. Hope to see you at Dragonfly Day 2020!