Friend Sharon Baur teaching at the Shorebird Festival; pc: USFWS
Teaching in Arctic Village; duck banding in Tetlin, maintenance at Galbraith Lake and on the Kwethluk River, event planning, spring clean-ups, hosting an art show, showing kids the great outdoors and reaching out to the public  – the refuges are asking for our help in a big way!  Refuges from Alaska Maritime to the Yukon Delta have come back from the pandemic drought in volunteer projects to requesting our help with more than 15 projects.  Most of these are now posted on our Volunteer Page along with the Volunteer Application.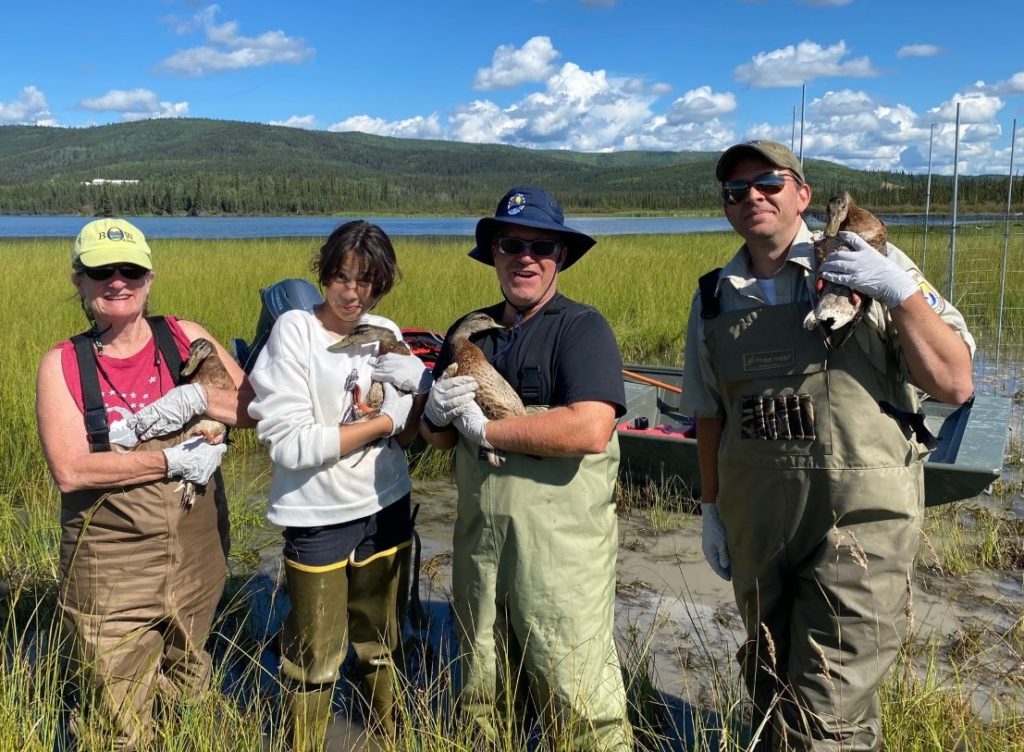 Friends duck banding on Tetlin Refuge in 2022; pc: USFWS
Please consider donating some time to help a refuge this year.  You could make a big difference.  Projects range from a 10 day commitment at Izembek to a two hour shift at an outreach table in Homer, Soldotna, Kodiak, or Fairbanks.  How about spring in Homer at the Kachemak Bay Shorebird Festival, May 3 to 7.  Friends cosponsors the Festival and we need volunteers as bird guides, Friends outreach table, event help and much more.  If you are in Anchorage or Fairbanks, help is needed for outdoor schools for upper elementary children.  Opening a child's eyes to nature is really our only hope for the future of wild places and wildlife. The outdoor schools are coming up quickly as well.  Closing dates for applications vary but some are as soon as March 30.  
There truly is something for everyone in our project list.  In addition, both the Kenai and the Alaska Maritime Refuge will have projects not yet listed that will need help throughout the year.  Watch for those. For more information go to the Volunteer Page or contact us at volunteer@alaskarefugefriends.org.