By: Leslie Slater, Friends Kodiak Refuge Liaison

Let me back up and tell you all about the trip that Friends' Vice President Poppy Benson and I as Kodiak Refuge Liaison had the pleasure of taking in October around National Wildlife Refuge Week.
The Refuge had asked us to come help with events, but we also had things we wanted to accomplish with several local groups. The Friends group has a small footprint in Kodiak and we wanted to increase that by telling folks what our mission is, how we can help them, and encourage them to join Friends.First up was a volunteer appreciation event cohosted with the Kodiak Refuge that acknowledged the efforts of people who contributed their time to Kodiak Refuge projects. The refuge normally held these events annually, but had been unable to do so over the past two years due to the pandemic. More than 30 people attended on a blustery, rainy evening, and we helped lure them in by providing locally catered finger foods. Most of the refuge's volunteers have been assisting with projects for several years, and one began his association with refuge projects in the 1970s!
The following day, with only an occasional bit of precip falling and the tiniest bit of blue sky taunting us, we set up a Friends table under a tent shared with the refuge at the "Walk for the Wild" event. The refuge visitors services staff set up a walking route that had trivia questions posted throughout and a photo scavenger hunt. Walkers set off with their clip boards and answer sheets to win rewards based on the number of correct answers. With 103 participants, this was the largest Walk for the Wild in Alaska. Many, many families with small children participated and all seemed to have a very good time. And personally, there was a bonus…. I even ticked a bucket-list item off: donning (and dancing in!) the brown bear costume that the refuge keeps on hand for such events.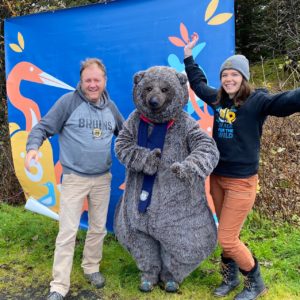 Kodiak Refuge Manager Michael Brady; bear; Kodiak Volunteer Coordinator Erin Strand, with the photo stop at the Walk for the Wild banner.  pc. Poppy Benson


The next day we were part of a small group who conducted a beach clean-up at White Sands Beach.  It's a few miles out of town and gets a lot of use… many firepits contained a lot of nails leftover from burning pallets.  It felt good to leave the site much cleaner than it had been.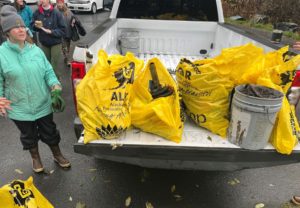 The "loot" from beach cleaning efforts with Ranger Gretchen Mominee. pc Erin Strand
Our last big public event was hosting the October Friends meeting, Tracking Puffins Across the Kodiak Archipelago.  It was an electronic challenge in linking three remote locations (Portland, Homer, Soldotna) and a zoom audience to the live meeting occurring in the Kodiak Refuge Visitor Center, but it seemed to have gone off without a hitch.  Twenty-six attended in Kodiak with a total audience from all locations and zoom land of 115.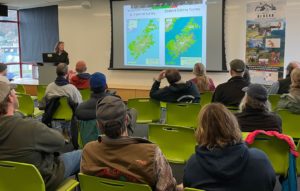 Kodiak Refuge Avian Biologist Robin Corcoran presenting to the Friends monthly meeting live to the Kodiak audience as well as the zoom and watch party audiences.  Pc Poppy Benson
Poppy and I also met with the Kodiak Audubon Chapter's board of directors, the refuge's new Community Affairs Liaison, Amy Peterson, at her office at Koniag and the president of the Kodiak Brown Bear Trust to encourage further communications, and hopefully, partner with them on future conservation projects.
Lastly, we had a sit-down meeting with refuge staff, to outline what Friends could do for them and discuss what they most need from us.  We gained five new members on this trip but planted lots of seeds for future partnerships.  And, did I mention, the party at the Refuge Manager's house?