Part 2: Field report filed by Jaqueline Keating
(Read Part 1 here)

"Don't walk out to the truck yet, there's a polar bear under the porch."
That's something you don't get to say to your roommates very often. But when it's one o'clock in the morning and the local polar bear patrol needs help nudging bears out of people's backyards, this is a logical conversation to have when one of those bears has moved under the bunkhouse porch (which has to be traversed in order to reach the truck used to assist with said patrol). It was not long before the bear moved to another location and we were able to get into our vehicle and assist with driving laps around the village in an effort to keep bears away from houses. As exciting as this moment was, at the time it felt like just another day in Kaktovik.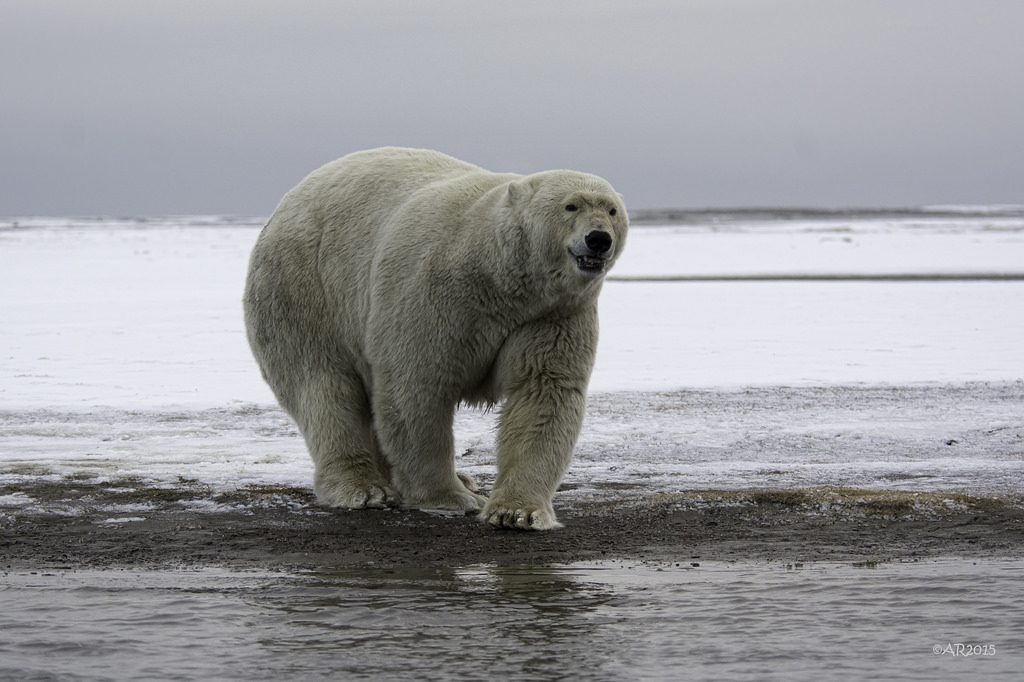 (photo by Anita Ritenour, 2015) 
I am incredibly fortunate to have worked with Arctic National Wildlife Refuge and Marine Mammal Management staff on the Kaktovik Polar Bear Conservation Project. Thanks to the support of Friends of Alaska National Wildlife Refuges, I was able to spend over three weeks on the Arctic Coast assisting with this vital effort. Duties included partaking in daily bear counts, monitoring bear viewing activity on Arctic Refuge waters, meeting with visitors from around the world to share information about the Arctic Refuge and the challenges facing polar bears, teaching about bears in local schools, and working with the Kaktovik Youth Ambassadors in their effort to share their community with tourists.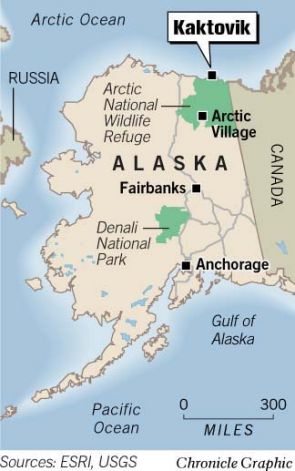 Early into my stay in Kaktovik, we counted 69 polar bears on a single morning count. While bears and people have coexisted in Kaktovik for a long time, a combination of decreasing sea ice and the availability of whale remains from the subsistence hunting that takes place in the fall has yielded a much higher density of bears near the village in recent years than ever before. Simultaneously, this village with less than 300 residents is suddenly seeing upwards of 1,000 people in a six-week time span to see the infamous polar bear. The physical and social climate could hardly be changing more rapidly.
I will soon be defending my Master's thesis on human-bear interactions on the Kodiak National Wildlife Refuge on Kodiak Island. My time in Kaktovik reinvigorated my passion for my research, and the importance of understanding the inseparable role that people play in wildlife management. In addition to having the privilege to work with so many talented staff and volunteers in the Fish and Wildlife Service, spending time with the local community was truly a gift. Whether it was running up and down village streets with the kids after school, sitting with elders and listening to their stories, or standing with others on the edge of the village watching bears feed across the glassy Arctic waters, it was a joy to experience this community.
I could not be more thankful for Marine Mammal Management and Refuge staff members who have worked so hard to build positive relationships with such a special community. I am honored to have been able to witness and partake in this project. Thanks again to the Friends of Alaska National Wildlife Refuges for enabling this partnership and many others like it!