by Poppy Benson, Friends Board Vice President
 
On a river and lakes and mountainsides, Friends were helping Refuges this past July-August.  Read the reports of three members about their work on Kodiak, Yukon Delta and Tetlin Refuges.
Saw Some Amazing Fish
by Michelle Beadle, Palmer member

I spent a week in July helping the Fish and Wildlife Service Fisheries crew at the Kwethluk Fish Weir in the Yukon Delta National Wildlife Refuge. Due to high water lingering into summer, the weir had only been "fish tight" for a couple days prior to my arrival. Having fish identification experience myself, I spent lots of time helping with the fish counts to free up the crew for buttoning up other projects. Fish passing through the weir are counted and monitored by video 24 hours a day. Chinook, sockeye, and chum made up the bulk of the fish observed with occasional pink salmon and whitefish showing up as well.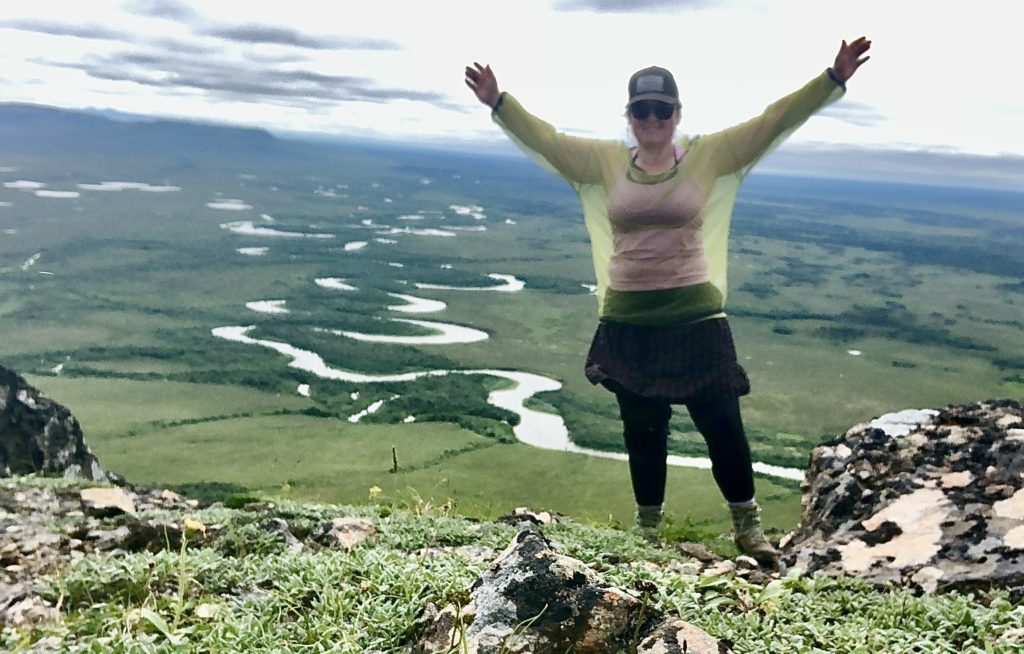 Saw Some Amazing Fish by Michelle Beadle, Palmer member

My time at the weir was great fun. I learned a lot about what it takes to run a weir on a large river system. The crew lead from the Kenai Fisheries Office, Derek, and the workers from the nearby village of Kwethluk were a pleasure to work with and shared a wealth of knowledge. The peacefulness offered by the remote tundra and adventure of traveling along the rivers rounded out the experience. I am looking forward to many more adventures in Western Alaska!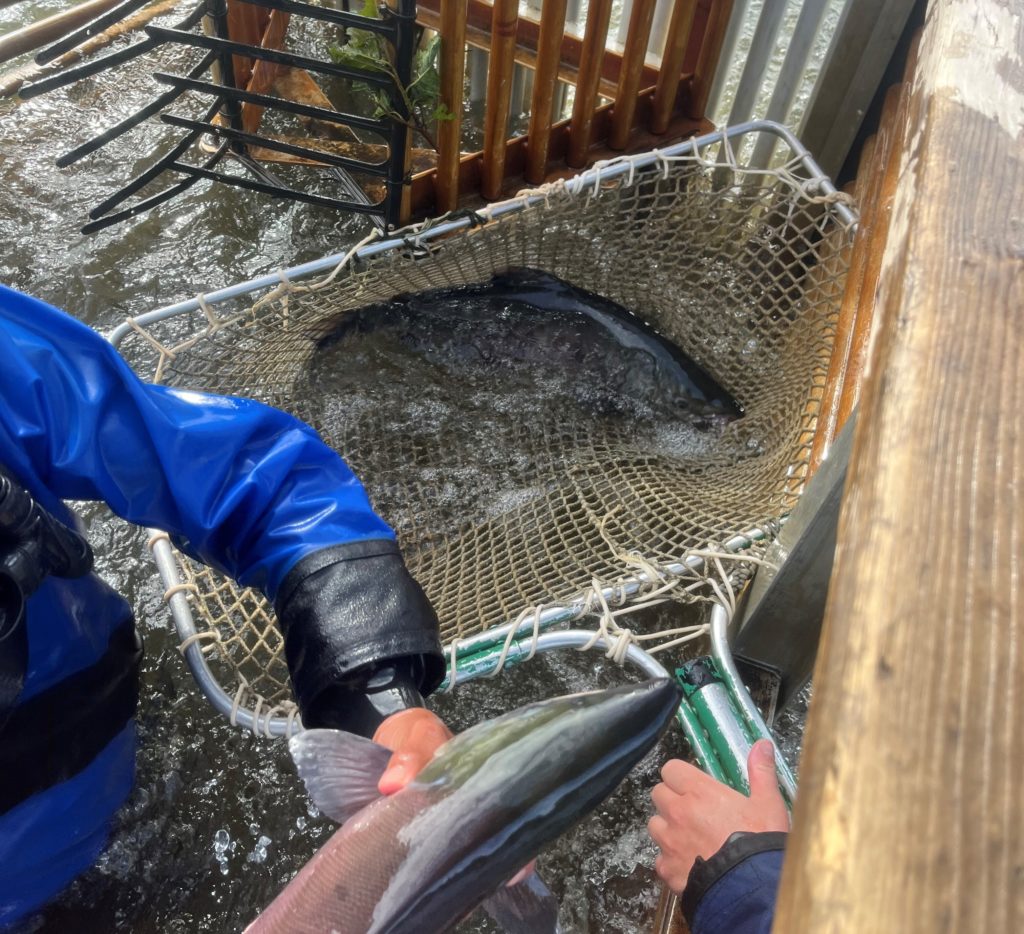 The fish trap is also closed for a short time each day, which allowed us to live capture fish to record age, sex, and length before releasing the fish upstream.  pc: Rory Spellman

Rory Spellman, Soldotna Friend, and Ryan Peyton, Anchorage Friend, also volunteered at the weir.
---
Would I do it Again?
In a Heartbeat:  Berry Monitoring on Kodiak Island
by Moira O'Malley, Fairbanks Friend
 
You may have heard of Exploratory Botanist Steve Perlman "going to extremes by descending remote cliff faces to save Hawaii's most endangered native plants from extinction".   Kodiak National Wildlife Refuge has their own Extreme Wildlife Biologist- Bill Pyle.  Bill is on a mission to help save the Kodiak bears by monitoring berries- salmon, blue, elder, and devil's club. I assisted him for 3 1/2 weeks this summer. 

Berry monitoring with Bill is not for the faint of heart. First of all, you have to get to the remote sites by a Beaver Cub float plane; weather permitting, of course. It's often a waiting game. Once at the site, be prepared to stay in a public use cabin with no running water (Uganik), a teepee (Red Lake, my favorite), the 'posh' Camp Island (Karluk), and the bunkhouse (Kodiak). Then the fun begins. Kodiak bushwhacking features steep climbs, scrambling through stinging nettles, burning poochki (wild celery), tussocks, 'root grabbers', all while under relentless attack by mozzies (mosquitoes), no-see-ums, white socks, and biting flies.  And dealing with cold soggy fingers and keeping the data dry! On one site, I was perched on a 140-degree slope barely hanging on by the 'skin' of my boots with my heels dug into the wet, muddy, slippery soil to keep from sliding down the incline!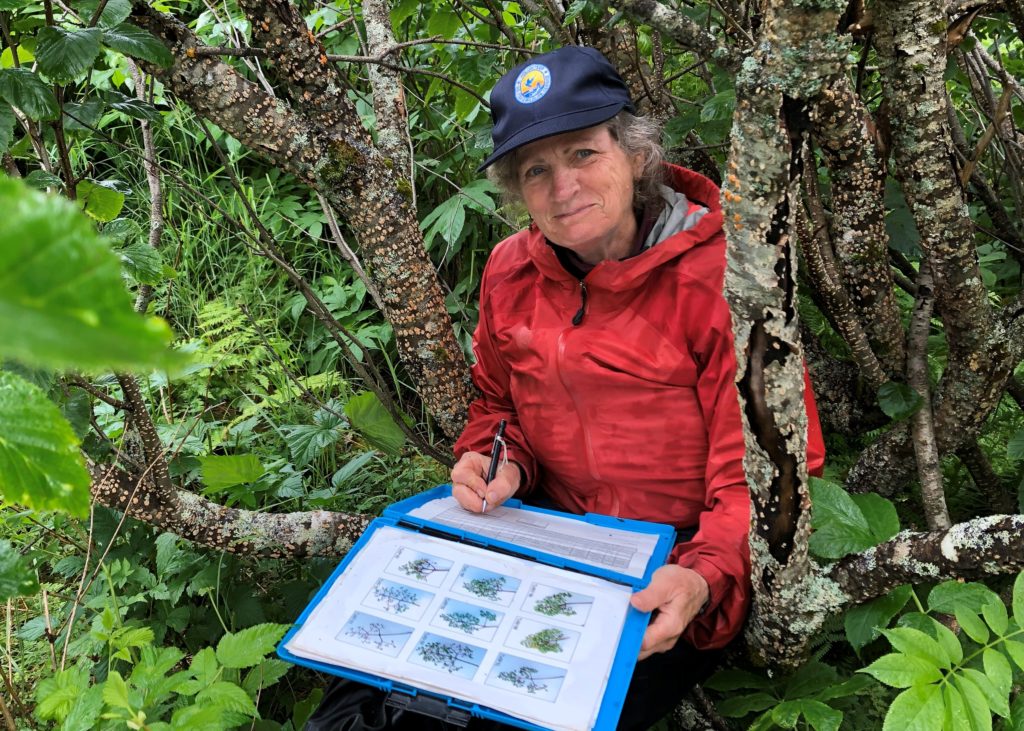 My job was writing down data as it was given to me, often shouted from a distance. Alders became my friend. They not only provided shade, but the branches offered a comfortable place to sit while collecting data.

Oh, the views, wildlife, and flora of Kodiak Island! What an unforgettable experience!  Would I do it again? In a heartbeat!

---
The Set Up Crew:  Banding Ducks was a Bonus
by John and Lyn Kennedy, Soldotna Friends

We spent the first three days of our week building and setting up the duck banding traps in Deadman and Yarger lakes at Tetlin National Wildlife Refuge. The traps consisted of 40 foot long rolls of chicken wire prepped with a door to be used by banders to enter the trap and retrieve the ducks. We boated the materials to the desired area in the lakes and held the traps in place with ground rods. Then an opening was fashioned to allow the ducks to swim into the trap and bird netting was attached creating a roof so the ducks weren't able to fly out. Traps were baited with barley and corn and fingers were crossed hoping the ducks would come.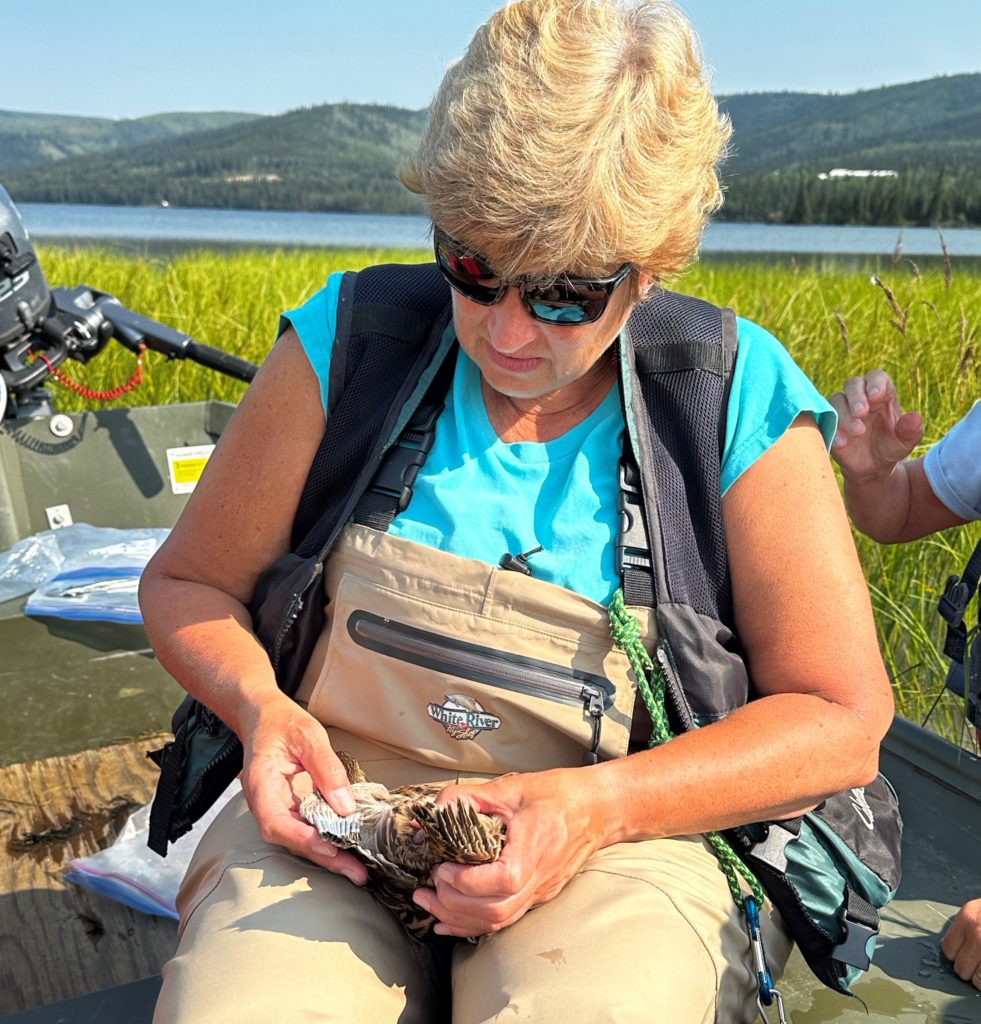 It was early in the season so we went with the expectation that we would just be setting things up and not actually banding any ducks, so for us it was a bonus.  Lin Kennedy prepping duck for banding.

On the fourth day, we actually caught some ducks.  Deputy Refuge Manager Ross Flagen was in his element teaching how to determine if it was a juvenile or a mature duck, male or female.   After that a band was put around a leg, and they were sent along their merry way.   As John and I were newbies to this and have no birding experience, it was very educational.

 It was a fun, informative week.  We enjoyed being able to experience the Tetlin Refuge.  The staff we encountered were all very friendly, excited and appreciative to have "Friends" at their refuge.  John and I would both be more than happy to go back again.

---
Great Weather if You like it Hot with Thunder and Lightning.
by Dan Musgrove, Soldotna Friend

Our second week team of Dan Musgrove and Jerry Hupp had to be very adaptable to the extreme weather conditions.  The three teams after them were canceled due to the high water making it impossible to trap ducks.  Hear what Dan had to say.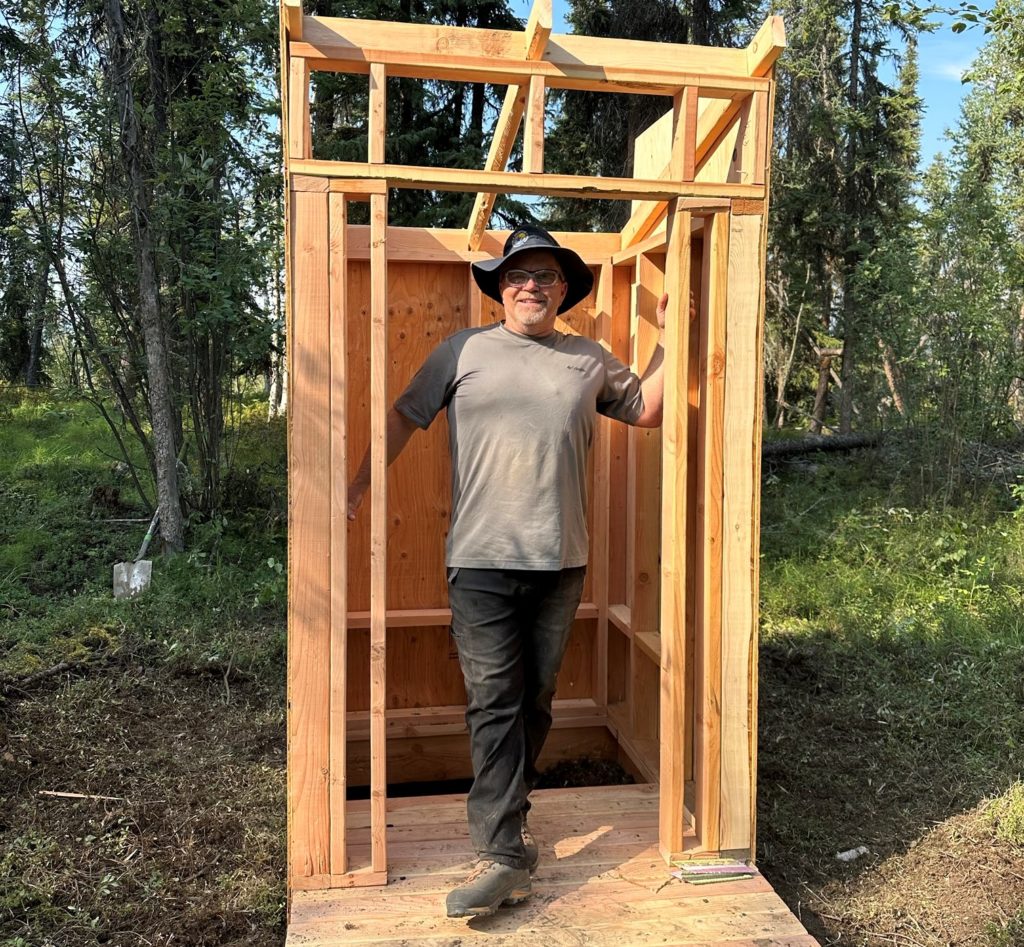 Dan Musgrove with the outhouse he was building as part of the Scottie Creek historic cabin's transition to a public use cabin.

Due to the hot weather and high water levels duck banding was not good and we only got three ducks the first day. We ended up adding a couple more traps on Deadman Lake for later on in the season.  After that we switched gears and started working at Scottie Creek Cabin.  The Tetlin Refuge was turning this historic cabin into a public use cabin. We helped build an outhouse and enhanced the trail going into the cabin. We lined the trail with sawdust, which took two large dump trailers full from Tok.

We had great weather if you like it hot with thunder and lightning.  Thermometer in the shade of the Northway gas station showed almost 90 degrees!  I had a great time volunteering and would recommend it to everyone. Thanks again for these opportunities.