What does it take to grow new birders and public lands users?  The U.S.  Fish and Wildlife Service in partnership with Alaska Geographic aim to figure this out through immersive experiences  for youth on and about public lands. In this spirit, a group of 9 young people, accompanied by Helen Strackeljahn of the U.S. Fish and Wildlife Service and Eileen Kazura and Reth Duir of Alaska Geographic, attended the 25th Annual Kachemak Bay Shorebird Festival with generous support from the National Fish and Wildlife Foundation, the Friends of Alaska National Wildlife Refuges and the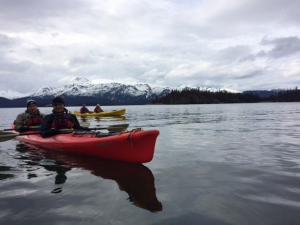 U.S. Fish and Wildlife Service. The group of current high school and college students from Anchorage, Alaska, were all first time birders when they arrived in Homer for the Shorebird Festival. Over the course of the Festival, they learned how to use binoculars, spent time in kayaks, and discovered their own personal bird story in a workshop with keynote presenter J. Drew Lanham.  These activities and more were made possible through a generous grant from the Friends of Alaska National Wildlife Refuges.
Throughout the weekend, the group spotted Sandhill Cranes, Western Sandpipers, Greater White-Fronted Geese, and many more migratory species. They also had a number of close-up encounters with Homer's resident Bald Eagles.
Highlights of the trip included kayaking around Yukon Island, pictured above, which began with entertainment on the water taxi provided by Dave Aplin of
World Wildlife Fund
, and culminated in a kayak race back to the shore. The group also enjoyed exploring Homer and attending the On the Wing Concert, Birder's Breakfast and Keynote Speeches. 
Many thanks goes to the array of partners and sponsors, who made it possible to connect these urban youth to their Alaska Refuges.