This presentation was recorded: 
 see below.
The bobbing orange and yellow bills of Tufted and Horned Puffins are signs of summer off the coast of Alaska. These beloved birds have sometimes been called "clowns of the seas" due to their playful appearance. However, little is known about where these iconic species overwinter when they spend eight to nine months at sea away from breeding colonies. Join Robin Corcoran and Katie Stoner to learn about the ecology of Tufted and Horned puffins. Discover the habitats of Kodiak's puffins and hear how Kodiak National Wildlife Refuge, in cooperation with Oregon State University, is working to better understand and investigate factors that might be impacting populations of these two charismatic seabirds within the Kodiak Archipelago.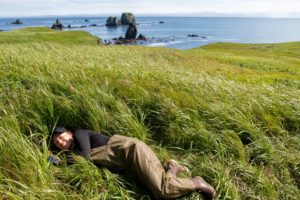 Katie Stoner "grubbing" puffins on Chiniak Island. It takes a long arm to reach into the puffin burrows. pc:Robin Corcoran/USFWS
In Kodiak, join us for the presentation at the Kodiak National Wildlife Refuge Visitor Center with a speaker reception starting at 4:30. 
In Soldotna, a watch party at 5 p.m. at the Kenai National Wildlife Refuge Visitor Center on Ski Hill Road followed by volunteer orientation for those interested.
In Homer, a watch party at 5 p.m. at the Alaska Maritime National Wildlife Refuge's Islands & Ocean Visitor Center followed by an opportunity to join Friends and learn about volunteer opportunities with the Refuges.
---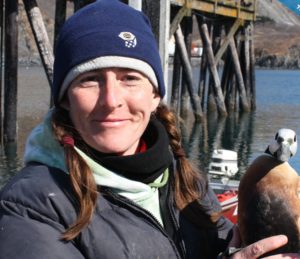 Robin Corcoran has said that it is a dream come true that part of her duties  as Avian Biologist for Kodiak National Wildlife Refuge are the same things that she would do in her free time – watch and photograph birds.  In spite of  growing up on Long Island outside of New York, she got to play unsupervised in a woods, a marsh and shore where she developed her passion for all wild things.  She particularly likes birds because they are more diverse than mammals.  Since Robin started working at Kodiak Refuge in 2009, she has studied everything from Kittzlitz's Murrelets nesting on rocky mountain tops, to the rapidly declining Aleutian Tern. Robin oversees an annual songbird mist netting and banding program and spends much of each summer navigating the Kodiak Archipelago coastline by skiff to count nearshore marine birds.   Hear more about Robin's interesting career on this podcast.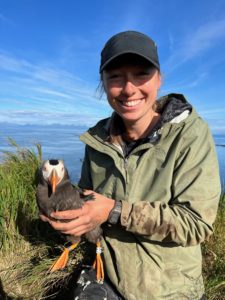 Katie Stoner is an Oregon State University PhD student working in collaboration with Kodiak Refuge for her dissertation research assessing the conservation status and threats to Tufted and Horned Puffins breeding in the Kodiak Archipelago within the Gulf of Alaska.  She developed a passion for wildlife and birdwatching while attending summer camps with the Audubon Society of Portland in her hometown of Portland, Oregon. She earned her Bachelor of Science degree in Wildlife Biology and Natural Resource Ecology from the University of Vermont. During her undergraduate degree, she had the opportunity to volunteer for Kodiak National Wildlife Refuge on the refuge's Kittlitz's Murrelet Nesting Ecology Project, and she used data from her fieldwork on this project to complete her undergraduate thesis. 
After graduating, Katie gained experience studying avian ecology as part of several different research programs. She contributed to the conservation of threatened and endangered petrels and shearwaters in the tropical mountains of Kauai's Na Pali Coast and monitored tree nests of the Marbled Murrelet in Oregon's coastal forests. She lived in remote field camps for her work including in the backcountry of the Kodiak Archipelago, on Chowiet Island in the Gulf of Alaska, and on the windy slopes of Cape Crozier on Ross Island, Antarctica studying Adelie Penguins for Point Blue Conservation Science. 
Katie is thrilled to return to Alaska and Kodiak National Wildlife Refuge to learn the secrets of Alaska's "clowns of the seas."