Presented by Dave Atcheson author, fly fisherman, canoeist
Watch Dave's recorded presentation below:

Dave will be in person at the Kenai Refuge with a book signing at 4:30 pm, talk at 5 and reception at 6.  A watch party will be at the Alaska Maritime Refuge in Homer with Dave's books available for purchase.
Come learn about the vast canoe country of the Kenai National Wildlife Refuge with Dave Atcheson, author of the newly released book, Canoeing Yaghanen.   Swan Lake and Swanson River canoe trails, just north of Sterling, Alaska, cover over 100 miles with more than 70 lakes, two river systems and portage trails.  These routes are a national treasure having been recognized as Water Trails within the National Recreation Trail System.  The Swan Lake trails and most of the Swanson River trails are within designated Wilderness, closed to motorized equipment and boats.  All you will hear will be loon calls, beaver tail slaps, swans honking and wind in the spruce.  Dave will share his images and thoughts on what makes this place so special, its wildlife and waterbirds, incredible trout fishing and of course, how you can plan your own adventure into this wonderful network of wilderness trails and waterways. From easy family weekend trips to weeklong adventures, paddlers of all abilities and ages will enjoy this unique wilderness experience.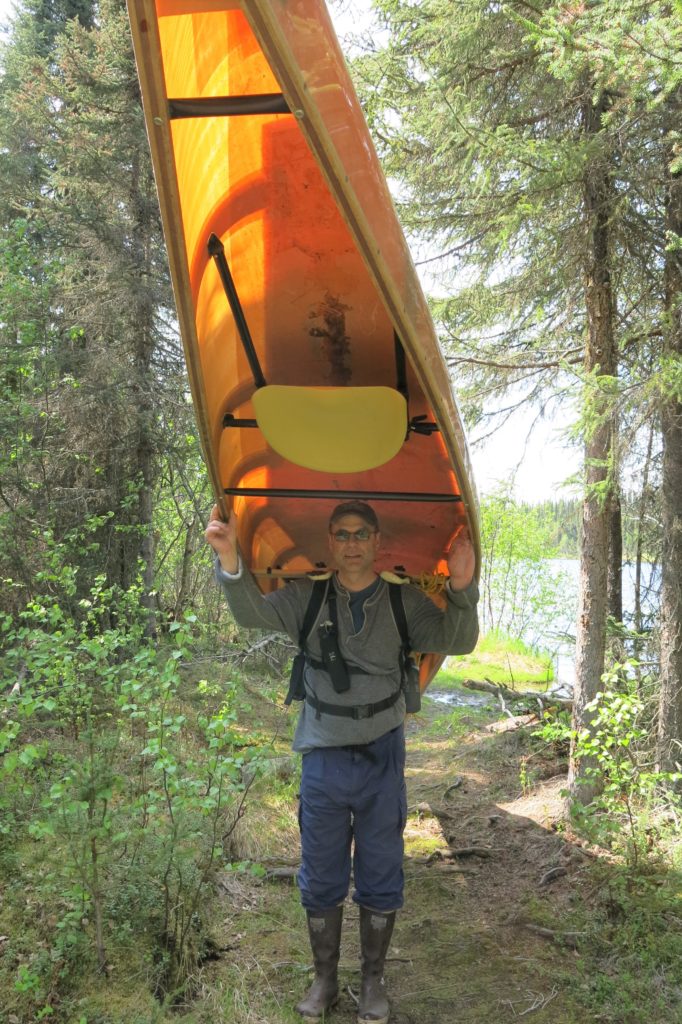 '    Portages varying in length from a hundred yards to nearly a mile connect the lakes of the canoe system.  Dave Atcheson portaging. pc Cindy Atcheson
Dave Atcheson is an avid canoeist, sports fisher and hunter and has spent much of the last 30 years exploring the Swan Lake and Swanson River canoe systems.  Dave writes that the canoe trails are one of his favorite places, not only in Alaska, but anywhere.  He also writes that "this still-water wonderland contains some of the finest lake fishing Alaska has to offer." (from Canoeing Yaghanen) Dave has written for a variety of periodicals from Outdoor Life to Boy's Life to Alaska Magazine and is a past contributing editor to Fish Alaska.  He is the author of the memoir of his commercial fishing days,  Dead Reckoning, Navigating a Life on the Last Frontier, Courting Tragedy on its High Seas.  He also wrote National Geographic's Hidden Alaska, Bristol Bay and Beyond and the guidebook Fishing Alaska's Kenai Peninsula. Dave teaches fly fishing and has run the Kenai Fishing Academy at the University of Alaska Anchorage, Kenai Peninsula College.  Originally from upstate New York, Atcheson has traveled all over Alaska and lives in Sterling close to the canoe country.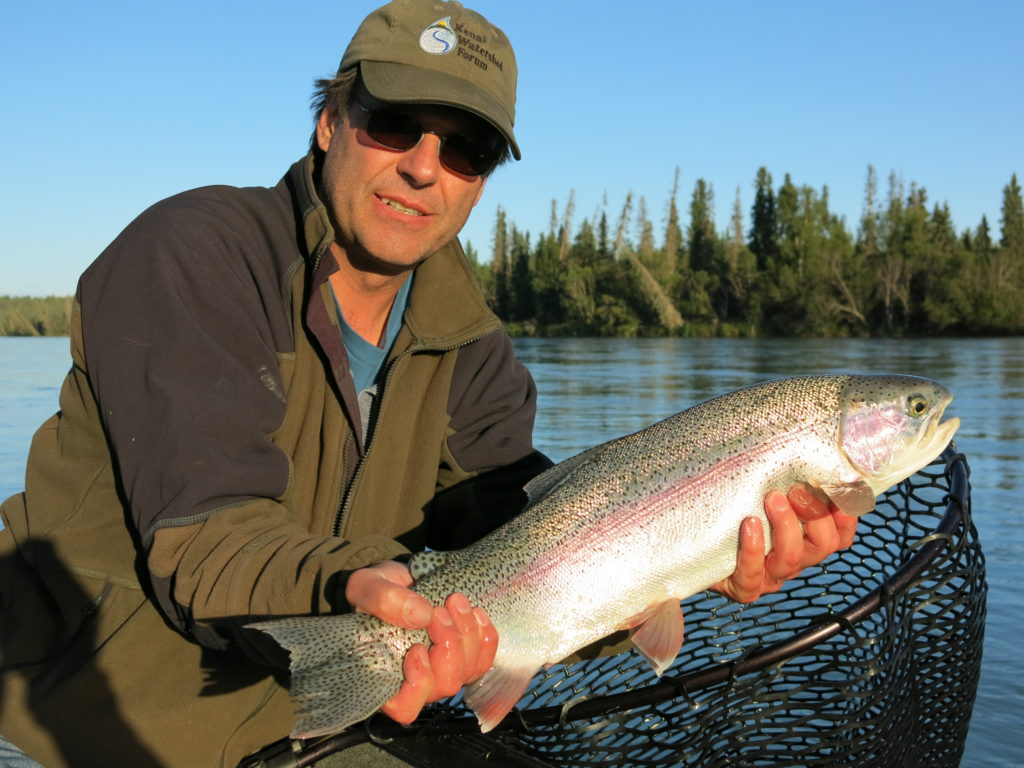 Dave Atcheson with Kenai River rainbow.  pc: Lee Keuper

Canoeing Yaghanen (the Good Land): A Guide to Kenai National Wildlife Refuge's Swan Lake and Swanson River Canoe Systems was published by Alaska Geographic and is available from their online store here or at the Alaska Geographic bookstores at the Kenai Refuge and Alaska Maritime Refuge Visitor Centers.