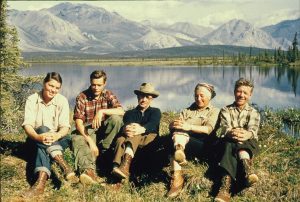 Bob Krear took this photograph at a camp near the Sheenjek River in 1956.
From left are: Brina Kessel, George Schaller, Don "Doc" MacLeod,
Mardy Murie and Olaus Murie


This 5 day Arctic Refuge experience planned for the summer of 2021 that will recreate part of the 1956 Olaus and Marti Murie Sheenjek Expedition HAS BEEN POSTPONED until 2022. 
This is the wild heart of this Refuge.  Access will be via float plane for small groups.  Selected artists from any medium will be expected to produce a work which will share their experience on the Sheenjek with a wide audience.  This trip is part of the Arctic National Wildlife Refuge's 60th Anniversary.  All expenses from Fairbanks will be covered.
Applications are not being taken at this time